Generic name:
Sulfasalazine
Drug description:
Azulfidine is a prescription drug that is used in serious chronic conditions that cause inflammation of the tissue, tissue damage and some other effects. It is mostly used in treatment of ulcerative colitis (the most severe types) while it can also be used in treatment of arthritis, especially if it had not responded to some other treatments. Azulfidine is the brand name for Sulfasalazine and it is a very potent medication that needs to be taken as prescribed and only when prescribed. Azulfidine should only be taken if the doctor has decided that it is the best treatment.
Manufacturer: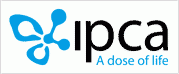 IPCA - A dose of life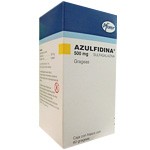 Actual product may differ in appearance from image shown.

More facts about
Generic Azulfidine (Sulfasalazine 500 mg)

:
Generic Azulfidine (Sulfasalazine 500 mg)

guide:

Generic Azulfidine or Sulfasalazine is a prescription drug that is used in treating a number of inflammatory diseases, such as Crohn's disease, ulcerative colitis and inflammatory bowel disease. It can also be used in the treatment of other inflammatory conditions, such as rheumatoid arthritis and psoriatic arthritis. In addition to this, it has been shown that Sulfasalazine can help liver tissue heal, which suggests that it might also be used in treating cirrhosis of the liver. Finally, Sulfasalazine has also been used to treat idiopathic urticaria that did not respond to antihistamine treatment.

Generic Azulfidine is an extremely potent medication and there are some measures of precaution that need to be taken even before one starts using the drug. It is essential to inform the physician about any cases of porphyria, blockage of the intestines or bladder as well as any allergies to sulfa drugs or even aspirin and other similar salicylates. In such cases, the use of Azulfidine is not recommended as it can cause severe adverse reactions. Furthermore, people suffering from asthma, any kidney or liver disease and glucose-6-phosphate dehydrogenase deficiency will have to be particularly careful when taking Azulfidine and their physicians need to be aware of their condition before they prescribe Azulfidine to them.

It is believed that Generic Azulfidine does not harm the fetus or the nursing child and it is therefore considered relatively safe for pregnant and breastfeeding women. However, this still means that the doctor needs to establish whether the potential benefits outweigh the potential risks.

It is absolutely essential to take Azulfidine as it was prescribed and that the user never increases or decreases the dosages on their own. It is also important not to continue the use of Azulfidine after the prescribed regimen is completed. It is possible that the doctor will want to check the patient's liver and kidney function and health during the regimen and it is absolutely essential that the patient undergo these regular checkups.

Sulfasalazine needs to be kept at room temperature away from heat and moisture.

Some side effects are possible in people who buy Azulfidine and use it to treat their condition. Milder side effects of Azulfidine may include loss of appetite, mild nausea, upset stomach and diarrhea, headaches, dizziness, white patches and sores on the lips and in the mouth, sleep disturbances, mild itching and rash. These are not considered to be reason for panic and they will most likely subside in time.

More serious side effects of Azulfidine that need to be reported straight away include: pale skin, easy bruising, sore throat, fever, flu-like symptoms of other kind, burning and painful sensation when urinating, the appearance of the undigested tablet in the stool, severe headaches, sore throat, severe skin rash. These are signs that something might be wrong with the treatment and it is essential to report these straight away. The good news is that these are extremely rare if one uses their Azulfidine properly.

There are a number of medications and other substances that might interact with Azulfidine and that might cause the drug to work less effectively. The potential interactions with v may occur if one takes digoxin, folic acid or any other supplements that contain folic acid when they are using Azulfidine. It is best to talk to the doctor about any possible interactions and to ask them if there are any chances of any interactions occurring.

One should never take too large a dose of Azulfidine and if one overdoses on Azulfidine they might experience nausea, stomach pain, vomiting, drowsiness and seizures. It is essential to contact emergency medical services in such a situation.

Azulfidine is an extremely potent and effective medication and many people who are suffering from the conditions that are treated with this drug order Azulfidine online as this allows them to save money and get the drug delivered to their address.
Free prescription
Our doctor prescribes Sulfasalazine online for free, and there is no doctor's consultation fee.
Discrete packaging
All orders of Sulfasalazine arrive in discrete unmarked parcels. We leave the shipment description blank.
Azulfidine (Sulfasalazine) Reviews: