Order cheap Triphala online.
Drug description:
Triphala has been utilized in ayurvedic healing for more than 2000 years and is considered one of the most potent herbal mixes in Indian traditional medicine. At our online drugstore, you can purchase this herbal medication made by the most reputable manufacturer known around the globe Himalaya Herbals.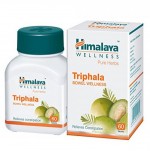 Actual product may differ in appearance from image shown.

More facts about
Herbal Triphala 250 mg

:
Herbal Triphala 250 mg

guide:
What is Triphala used for?
Triphala is a natural remedy containing three kinds of dried fruits crushed into powder. This herbal mix has been widely used to treat various diseases. It also improves vitality and overall health.
The polyphenol compounds in Triphala are widely used in Ayurvedic healing, a traditional system that focuses on disease prevention and health promotion.
It is believed that the combination of synergistic herbs leads to additional therapeutic effects and has greater healing power than the component taken alone.
Triphala is a multifaceted remedy and consists of medicinal substances such as amla, bibhitaki and haritaki.
Amla, the Latin name for Emblica Officinalis, is also known as Indian gooseberry because of the sour taste of the berries, which are rich in vitamin C, amino acids and minerals. Studies have shown the presence of such plant elements as rutin, emblicol, phenols, curcuminoids, tannins.
Ancient Indian healing uses the herb to treat constipation and prevent cancer. Several I vitro studies show that amla indeed can inhibit the growth of cancer cells in the cervix and ovaries but no human studies have been conducted.
Bibhitaki (Terminalia bellirica) is a tree growing in Southeast Asia, its fruits are used for viral and bacterial infections, as they contain ellagic and gallic acids, tannins, flavonoids, which are widely used in medicine.
Bibhitaki has been clinically proven to reduce uric acid levels in gout patients and promote insulin secretion by the pancreas, thereby improving the condition of diabetic patients.
Haritaki (Terminalia chebula) is a tree that grows in Southeast Asia and the Middle East. Ayurveda calls it "the king of medicines" and recommends it for the treatment of heart disease, asthma, ulcers, as well as digestive problems such as constipation.
Contains phytochemicals: terpenes, anthocyanins, polyphenols and flavonoids, which have antioxidant properties and significantly affect health.
Research in laboratories has shown that treating haritaki actually increases intestinal transit time, thus relieving constipation.
Free prescription
Our doctor prescribes Triphala online for free, and there is no doctor's consultation fee.
Discrete packaging
All orders of Triphala arrive in discrete unmarked parcels. We leave the shipment description blank.