What is Levlen? How to Treat with Generic Levonorgestrel and Ethinyl Estradiol.
Drug description:
Generic Levlen is the same preparation as the brand-name pills Levlen simply made by another drug making company. The pills are based on Levonorgestrel and Ethinyl Estradiol and are used to prevent unplanned pregnancy, i.e. as an oral birth control and to regulate the menstrual cycle, to cope with premenstrual syndrome, and in other conditions. To know how to use the pills, when they are contraindicated, and what precautions you should undertake while using them, read our medication guide with the comprehensive information.
Generic name:
Levonorgestrel and Ethinyl Estradiol
Benefits:
Helps to prevent unplanned pregnancy, normalize menstrual cycle, and cope with premenstrual syndrome
Analogs:
Florina, Oral L, Brevicon, Diprol, Ertonyl, Estoral, Eticyclin, Follistrel, Kolpolyn, Linoral, Microgyn, Microval, Nordet, Norimin, Oradiol, Orestrayln, Ovcon, Ovex, Palonyl, Perovex, Primogyn, Triphasil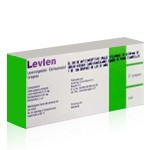 Actual product may differ in appearance from image shown.

More facts about
Generic Levlen (Levonorgestrel and Ethinyl Estradiol 0.03/0.15 mg)

:
Generic Levlen (Levonorgestrel and Ethinyl Estradiol 0.03/0.15 mg)

guide:
What are Levlen pills?
Levlen is a brand of birth control tablets owned by Bayer pharmaceuticals. The tablets are based on two active substances Levonorgestrel and Ethinyl Estradiol. These substances are also used in other combination birth control preparations and sold under other trade names. Usually, the less-known trade names come along with a lower price per pill. Therefore, if you want to save when you are appointed to buy Levlen to prevent pregnancy, you can instead purchase a generic version of the medication, i.e. the same drug made by another company.
The preparation is mostly used as an oral contraceptive, i.e. birth control in women of childbearing age but it can also be used to normalize the menstrual cycle in various disorders such as sporadic periods, short or meager periods, and painful periods.
The birth control effect rendered by the preparation is due to the mutually reinforcing mechanisms of two main ingredients, the most important of which include the suppression of ovulation and increased viscosity of the secretion of the cervix resulting in it becoming impenetrable for spermatozoa.
Women who use combined contraceptive medications usually develop more regular menstruations, less painful periods, less intensive periods. This contributes to the lowered risk of iron deficiency anemia, cancer of the endometrium, and ovarian cancer.
It is not advised to buy Generic Levlen and start using it without prior consulting your gynecologist and undergoing a comprehensive medical examination to exclude pregnancy and medical conditions in which the use of the pills can result in serious health damage.
What are Generic Levlen pills?
The generic medication that has in its composition Levonorgestrel and Ethinyl Estradiol in the same dosages as Levlen is basically the same medication as the branded one simply made by another pharmaceutical firm. It is possible for different makers to produce the same medications because the formula isn't protected by the patent since it had already expired. You can without any worries buy Levonorgestrel and Ethinyl Estradiol under a different trade name as long as these two substances are indicated on the package and the manufacturer has a good reputation. For instance, our online pharmacy works only with reputable generics makers who manufacture the medications in strict compliance with the original formula and have all necessary certificates and approvals for the medications marketing around the world. If you don't see the name of the manufacturer on the page of the preparation you plan to purchase, you can always contact our pharmacists and they will provide you with complete information.
When should you buy Generic Leaven pills?
The pills are used for daily contraception, i.e. to avoid unplanned pregnancy and in various menstrual disorders manifested in sporadic periods, painful periods, short and scanty periods, or, on the contrary, long and heavy periods. You can buy Generic Levonorgestrel and Ethinyl Estradiol at this webpage without a prescription if you have any of these conditions but we strongly advise you to consult your gynecologist to be sure that the medication is right and safe for you as well as to get the instructions on how to use it properly, for how long, and what checkups and how regularly you need to undergo using these birth control pills.
When are Generic Leaven pills contraindicated to be used?
In this medication guide, we provide only the strictest contraindications for the preparation use. Please consult your gynecologist or read a complete instruction to find out whether you have any contraindications or conditions in which the medication should be used with caution.
You should not order Levlen and begin using it if you suffer from thrombosis, thromboembolism, proneness to thrombosis development, cerebrovascular disorders, heart diseases, migraines, vascular complications of diabetes, pancreatitis, liver failure or severe liver disease, cancerous tumors, vaginal bleeding of unknown cause, pregnancy, breastfeeding, deficiency of lactase, lactose intolerance, isomaltase deficiency, fructose intolerance, glucose-galactose malabsorption, and elevated arterial pressure.
The pills are also not encouraged to be used or should be used cautiously if the following diseases or factors are present: risk factors for thrombosis or thromboembolism development such as smoking, heart diseases, history of cardiovascular diseases in relatives of young age, elevated blood pressure which is controlled by the pills, conditions in which the peripheral blood circulation can be violated, Crohn's disease, ulcerative colitis, any liver or pancreas symptoms that developed during gestation or the use of oral contraceptives, gallbladder disease, otosclerosis with hearing impairment, porphyria, herpes during pregnancy, Sydenham's chorea, and proneness to swelling.
What adverse effects can the use of the Levlen pills cause?
The preparation is generally well-tolerated and the most frequent adverse reactions such as nausea, abdominal pain, weight gain, headache, decreased mood, mood changes, tenderness of the mammary glands, breast engorgement are reported by less than 1% of women who use the pills regularly.
The most serious adverse effects that require the discontinuation of the pills use are arterial and/or venous thromboembolism.
If you suffer from any allergic reactions or other negative symptoms, make sure to inform your gynecologist right away.
Interaction of the medication with other preparations and substances
Before you order Generic Levlen, make sure to inform your gynecologist about all medications that you use and ask him or her whether they are compatible with these birth control pills.
The effect of the contraceptive medication can be lowered and possible vaginal bleedings can occur in the use of preparations that induce microsomal enzymes. It is recommended, if you still use these medicines, to use also barrier methods of contraception (condoms) as long as you take the medicines that can lower the contraceptives efficiency and twenty-eight days after you stopped the therapy with them. These medications include phenytoin, barbiturates, rifampicin, and possibly also oxcarbazepine, topiramate, felbamate, griseofulvin, as well as preparations that have St. John's wort in their compound, HIV protease inhibitors or hepatitis C virus protease inhibitors, and others.
Generic Levlen in its turn can also influence the metabolism of other medications which leads to the raise of their concentration in the blood plasma (for instance, cyclosporine) or lowering of their concentration (for example, Lamotrigine).
How to use Generic Levlen pills?
Here we provide the regular instruction that is provided with the pills but please consult your gynecologist before you order Levonorgestrel and Ethinyl Estradiol as you may need the medication in another manner for your condition.
The pills are taken orally by one pill a day at the same time every day for twenty-one day with an interval of seven days. The intake of the pills for the avoidance of pregnancy is started on the first of fifth days of the cycle. After the break of seven days, the start of the new package of the pills use is started regardless of the duration of menstrual-like bloody discharges.
If you missed the intake, you should take the tablet in the next 12 hours or take two pills when you should have taken the next dosage. Then, continue using the preparation as you had been doing it before you missed the dose.
What should you do in case you overdose?
The overdose of the medication is commonly accompanied by nausea, vomiting, and period-like bloody discharges. There is no specific antidote so the treatment is based on the symptoms. If they are severe, you should seek emergency help. If not, you should inform your gynecologist and follow his or her instructions.
Where to buy Levlen pills?
The pills are sold with a prescription in some countries and over-the-counter in others. In order to save on the refill prescriptions, you can order Generic Levonorgestrel and Ethinyl Estradiol pills from our online pharmacy without a prescription. But please remember to order several packages at once to avoid being stuck without the pills once you finish the package of pills as the cheap shipping can last for up to 25 days.
Levlen pills shipping
We deliver all medications internationally within seven to twenty-five days based on the delivery type of your choice.
Free prescription
Our doctor prescribes Levonorgestrel and Ethinyl Estradiol online for free, and there is no doctor's consultation fee.
Discrete packaging
All orders of Levonorgestrel and Ethinyl Estradiol arrive in discrete unmarked parcels. We leave the shipment description blank.
Levlen (Levonorgestrel and Ethinyl Estradiol) Reviews:
Common drug rating:
5.00
/ Total votes:
2
Very reasonably priced, highly recommend
Order arrived quickly and as described. Thanks!