Generic name:
Norgestrel and Ethinyl Estradiol
Drug description:
Ovral is an oral drug that is used for preventing pregnancy. It prevents ovulation and also interferes with any possible fertilization and gestation of the egg. If the prescribed schedule is observed, the chances of conception are negligible.
Manufacturer:
Wyeth Pharmaceuticals
Synonyms:
Mala-d, Follistrel, Levlen, Levonorgestrel, Microgynon, Microval, Nordette, Norplant, Preven, Stediril, Trinordiol, Triphasil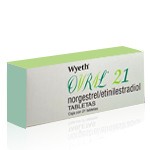 Actual product may differ in appearance from image shown.

More facts about
Generic Ovral G (Norgestrel and Ethinyl Estradiol 50 mcg)

:
Generic Ovral G (Norgestrel and Ethinyl Estradiol 50 mcg)

guide:
What kind of a drug is Ovral G?
Ovral is a prescription medication which is used as a contraceptive pill. It utilizes a combination of two female hormones (norgestrel and ethinyl estradiol), due to their ability to prevent regular ovulation and also to make certain changes to the state of the uterine lining and the cervical mucus ion female body. As a result of this, the sperm cells are much less likely to reach uterus, while this also makes it near impossible for a fertilized ovum to get settled in the uterus. The ultimate result of all this is that pregnancy is made near impossible and if the regimen is done properly, the chances of conception should be almost equal to zero. One thing that needs to be noted, though, is that Ovral is in no way protection from STDs.
Should I talk to my doctor before I start using Ovral G?
If you wish to make sure that you are only going to benefit from your taking of Ovral and that you are not going to experience any adverse effects, then you must talk to your doctor before you commit to Ovral as your birth control option. This medication has the possibility to harm certain people's health and there are also some people whose medical conditions will prevent Ovral from working properly. This is a list of medical conditions that are considered contraindications for Ovral: heart valve disorders, circulation issues (like in diabetes), irregular vaginal bleeding, history of jaundice which was caused by contraceptive pills, severe and/or uncontrolled hypertension, severe migraine headaches, liver disease, history of blood clot or stroke, hormone-dependent cancer( uterine or breast, for example). The list of conditions that will also be of interest to your doctor if you wish to use Ovral includes: diabetes, history of irregular cycles, high blood pressure, history of depression, angina, heart disease, high cholesterol levels, epilepsy, history of abnormal mammogram, fibrocystic breast disease, nodules or lumps, gallbladder disease, congestive heart failure, history of heart attack. These will be of interest to your physician due to the fact that these conditions also pose some risk, but not enough for them to be contraindications. You will need to come for more frequent checkups in case you are suffering from any of these.
Proper use of Ovral
Ovral is no different from other birth control pills in that it needs to be taken exactly as the doctor has prescribed. This regular use is crucial if you wish your Ovral to be effective and if you want it to work perfectly as a contraceptive. In case you miss a dose or two, the chances of conception rise, especially if this happens more than once or twice. Basically, the more regularly you take Ovral, the more efficient the prevention of pregnancy. There are particular procedures for different types of missed doses and you will need to make sure you understand it all. If you do not, ask your doctor to clear it up. Users of Ovral might be recommended to use additional birth control methods in the first few days of taking Ovral. Also, the first three months might be the time when you might experience breakthrough bleedings which should subside in time. If they do not, contact your doctor and inform them of this. If you need to do some tests or if you are going for surgery, let the medical staff know about this. It is possible they will need you to give Ovral a rest for a few days prior to these procedures.
Can Ovral cause any side effects?
Like all prescription drugs, Ovral too can produce certain side effects. In most cases, these side effects are not serious and they go away if given time. They include: nervousness, mild nausea, dizziness, vomiting, tiredness, bloating, decreased sexual desire, stomach cramps, changes to your cycles, breast pain, swelling and/or tenderness, vaginal discharge/itching, freckles, issues with your contact lenses, appetite or weight changes. More severe side effects of Ovral usually do not happen unless you take Ovral improperly. These include: breast lump, alterations to your migraines, depression symptoms (weakness, sleep issues, mood changes), chest pain, swelling of the extremities, sudden weakness or numbness, pain that spread to the arm, dark urine, sweating, clay-colored stools, upper stomach pain.
Ovral interactions
It is essential that you do not take any other drugs or substances with Ovral unless your doctor has told you it will be safe. Otherwise, you might experience interactions, especially with such medications like antibiotics, acetaminophen, modafinil, dexamethasone, barbiturates, HIV mediations, seizure medications.
Ovral is a hormonal birth control pill which contains two female hormones whose job it is to prevent ovulation, as well as to alter the lining of the cervix and uterus, further decreasing the chances of becoming pregnant.
Free prescription
Our doctor prescribes Norgestrel and Ethinyl Estradiol online for free, and there is no doctor's consultation fee.
Discrete packaging
All orders of Norgestrel and Ethinyl Estradiol arrive in discrete unmarked parcels. We leave the shipment description blank.
Ovral G (Norgestrel and Ethinyl Estradiol) Reviews: