Atarax (Hydroxyzine) - Effective Sedative and Antihistamine for Allergy and Anxiety Relief
Drug description:
Atarax is a brand name of the medication used both for allergy and as a sedative medication to relieve anxiety, nervousness, stress, and other conditions. The medication is based on the active substance named Hydroxyzine which is also manufactured and sold under different trade names. The drug sold under different names is called either Generic Atarax or Generic Hydroxyzine to make it easier for people to find the right medicine when they know only the brand name or the active substance name. In this medication guide, you can find all necessary information about Generic Atarax based on the most frequently asked questions and instruction coming with the pills.
Benefits:
- Helps to cope with allergic reactions of the skin;
- Acts as a sedative drug in anxiety and other conditions.
Analogs:
Hydrux, Oltrax, Alamon, Atara, Ataraxoid, Atarox, Atazina, Aterax, Deinait, Durrax, Equipoise, Fenarol, Hidroxizina, Hy-Pam 25, Hychotine, Hydroksyzyny, Hydroxine, Hydroxycine, Idrossizina, Masmoran, Neo-Calma, Neurozina, Nevrolaks, Orgatrax, Pamazone, Parenteral, Paxistil, Placidol, Plaxidol, Quiess, Tran-Q, Tranquizine, Traquizine, Vesparaz-Wirkstoff, Vistaril, Vistazine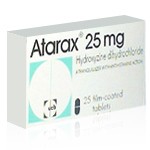 Actual product may differ in appearance from image shown.

Generic Atarax (Hydroxyzin 25 mg)

guide:
More facts about
Generic Atarax (Hydroxyzin 25 mg)

:
What is it Generic Atarax?
If you have ever had an allergy and was prescribed the medication called Atarax, you should know that it is a brand name of the medication based on Hydroxyzine.
The original formula was discovered in 1956 and the medication was exclusively manufactured by Pfizer, the owner of the brand name Atarax. Currently, as the patent had already expired, the formula is known to all manufacturers of medications and the same preparation can be manufactured and sold by other companies. However, they cannot use the same trade name. They need to come up with different names to register their medications and launch them onto the market. These drugs are collectively named Generics of Atarax. "What is the benefit of buying such medication?" you may ask. The thing is that the makers of generics didn't invest in the research and were able to save a lot of funds. They also prefer not to widely promote their medicines, i.e. they do not pay for advertising and reward doctors for prescribing their preparations. Their production facilities are also usually located in the countries where it is cheaper to make pills. All of this factors influence the price of generics – they are much cheaper than the branded medications, which is why more and more people prefer them over the branded medicines.
Hydroxyzine, the active substance of both the branded drug and Generic Atarax, is an antihistamine, i.e. anti-allergy medication used in different symptoms of allergy.
Is there any difference in quality and effect between the branded medicine and generic?
Generics are made using the same formula and ingredients. Their aim is to replicate the branded drugs without any differences to make the most effective and safe medications affordable for broader populations. Therefore, you should not worry that if you buy Generic Atarax you will receive worse treatment than with the branded medicine. However, you should pay attention to the vendor. Choose only reliable drugstores that have an overall good reputation and are willing to provide you all information about the medicine you are about to purchase.
When should you buy Atarax?
We sell all medications sold in our country over-the-counter without prescriptions at our online pharmacy including when we offer you to buy Hydroxyzine. However, we strongly recommend and always remind our customers that they should purchase any medication and start using it only if their doctor tells them to do so.
This particular medication is an antihistamine with a mild sedative effect. It is used as an anti-allergy medicine in atopic dermatitis, eczema, itching dermatitis, and urticaria. Besides, it is used as a sedative agent for premedication (preparation for a specific treatment to increase tolerance), vomiting, anxiety, increased excitability, alcohol withdrawal syndrome, psychoneurotic conditions, neuroses accompanied by fear, anxiety, stress, organic diseases with symptoms of anxiety and fear, and postoperative period (as part of combination therapy).
How the preparation must be used?
We strongly advise you to buy Atarax and start using it only after your doctor appoints you the medication and follow your doctor instructions. However, we still provide regular dosage regimens and treatment schemes in this article that are also written in the instruction that accompanies the pills.
Adults are prescribed to take on average from 50 to 100 mg a day.
Children younger than 7 years of age are administered 1 microgram per kilogram of the body weight 3 times a day.
Children aged from 8 to 15 years are administered 10 mg 2-3 times a day.
Children older than 15 years of age should take from 10 to 25 mg three times a day.
Precautions in Atarax use
Caution is advised for the use of the preparation in people with renal insufficiency (accumulation of the drug is possible) and for people engaged in activities requiring quick reaction and increased attention (for example, drivers, operators of machinery, air traffic controller, etc.).
Dosage adjustments
People with impaired liver or kidney function need to take lower dosages and monitor their dynamics through the tests frequently during the therapy.
Use of the medication during pregnancy or breastfeeding
You must not buy Generic Hydroxyzine if you are pregnant or breastfeeding as the medication is contraindicated in both cases. If your doctor prescribes you the drug when you breastfeed, you need to stop breastfeeding and start feeding your baby with baby formula instead.
Contraindications for the pills use
The medication is contraindicated for pregnant and breastfeeding women, in hypersensitivity to the medicine's components, aminophylline or ethylenediamine; people who suffer from porphyria, and children younger than one year of age in a form of intravenous infusions or three years of age in case of oral intake.
The medication use is also not recommended in myasthenia gravis, hyperplasia of the prostate with clinical manifestations (including difficulty urinating), glaucoma, dementia, convulsive disorders, including epilepsy, predisposition to arrhythmia, including electrolyte imbalance (hypokalemia, hypomagnesemia), prolongation of the QT interval and/or cardiovascular diseases in the history (including heart failure and hypertension).
With what medicines negative interactions can be expected?
Before you order Atarax, you must make sure that the medication is not contraindicated for you and that you don't use any substances or medications it is incompatible with. For instance, the medication must not be used along with any drugs that can cause arrhythmia or hyperthyroidism as it could enhance their negative effects.
Considering that the medication has a sedative effect, it is not recommended to combine it with other medicines used for sedation, for instance, narcotic analgesics, barbiturates, alcohol, and others.
It is also not advised to use the medicine along with MAO inhibitors and anticholinergics.
The medication lowers the effect of epinephrine and the anticonvulsant activity of phenytoin, as well as the action of betahistine.
The use of Hydroxyzine at the same time with the agents that have an ototoxic effect, for example gentamicin, can mask ototoxicity symptoms such as dizziness.
This list of incompatible medications is incomplete. Please consult your doctor if you use any medications and plan to order Generic Atarax.
What adverse reactions can the medication cause?
The medication use can cause such unwanted symptoms as sleepiness, fatigue, weakness, ataxia, trembling of hands, tachycardia, dryness of the oral mucosa, seizures, insomnia, nausea, allergic reactions, and others. If during the therapy with the medication you experience any negative symptoms, make sure to inform your doctor as soon as they occur as it can be a sign that the preparation is unsuitable for you and you would need to stop using it and get another medication for your condition.
Overdose signs and treatment
In case you overdose, you can suffer from such symptoms as nausea, vomiting, tachycardia, sleepiness, confusion, hallucinations, and others. These symptoms can develop into the loss of consciousness, respiratory depression, and convulsions, lowering of the blood pressure, arrhythmia, coma and cardiopulmonary collapse.
In case you realized that you overdosed, you need to seek medical assistance as the therapy must be made in a hospital. The treatment includes gastric lavage with prior endotracheal intubation. Also, it is necessary to monitor vital functions and administer naloxone, dextrose (glucose), and thiamine to provide adequate oxygenation. In case of necessity to obtain a vasopressor effect, norepinephrine or metameninol are administered. The cardiac activity and blood pressure should be monitored within 24 hours after the disappearance of symptoms.
Where to buy Atarax cheap?
If you want to save on the therapy with the medicine and get the maximum effect, you can order Hydroxyzine right at this web page. We sell the medication without a prescription and at a price lower than your local regular drugstores.
Shipping terms
We ship to all countries, cities, and towns. We offer standard and express shipping both with tracking numbers. If you wish to save on shipping, you can place an order for the total sum of $190 or more and our pharmacy will cover the cost of delivery.
Free prescription
Our doctor prescribes Hydroxyzin online for free, and there is no doctor's consultation fee.
Discrete packaging
All orders of Hydroxyzin arrive in discrete unmarked parcels. We leave the shipment description blank.
Atarax (Hydroxyzin) Reviews:
Common drug rating:
5.00
/ Total votes:
2
I am taking this drug several years already because of constant itching and rashes. It is a lifesaver for me! It also helps me to sleep at night as it is a sedative drug.
Everything was as described. Order arrived on time.