What is Billargic? How to Treat with Generic Bilastine .
Drug description:
Billargic is an allergy medication based on Bilastine. It is used for urticaria and allergic rhinitis or rhinoconjunctivitis caused by pollen or year-round exposure to allergens such as animal dandruff, dust, and so on. The drug suppresses allergic response by inhibiting H1 histamine receptors. The daily dosage is one 20 mg pill a day taken one hour before a meal. It can be used by adults and children aged older than 12 years for as long as a patient is exposed to an allergen.
Indications:
Allergic rhinitis, Rhinoconjunctivitis, Urticaria
Benefits:
Billargic effectively relieves allergy symptoms with just one tablet a day and doesn't cause sleepiness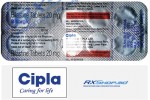 Actual product may differ in appearance from image shown.

More facts about
Generic Billargic (Bilastine 20 mg)

:
Generic Billargic (Bilastine 20 mg)

guide:
What is Billargic and when is it used?
The medication sold under the name Billargic is made by the Indian renowned pharmaceutical company Cipla. This drug is based on the active agent Bilastine, an anti-allergy agent which effect is based on the suppression of histamine receptors responsible for the allergic response of the body.
Short drug info
Legal status

US: Not FDA approved

Rx-only in EU
Pregnancy category
Contraindicated
Metabolism
Insignificant (excreted unchanged)
Excretion
Urine and feces
Molar mass
463.622 g•mol−1
This particular medication is a second-generation antihistamine what means that while effectively relieving the symptoms it doesn't make a patient drowsy.
Billargic is used all over the world but is unavailable in the U.S. The effect of the medication and its safety are the same as of the most popular allergy medication in America, Allegra. If you suffer from seasonal rhinitis or allergic skin rash, you can buy Billargic and enjoy the benefits of the modern allergy medication at a lower price.
When is Billargic used?
- Allergic rhinitis or rhinoconjunctivitis;
- Urticaria.
Billargic relieves sneezing, itching in the nose and eyes, nasal discharges and congestion, watery eyes, and other typical symptoms that occur as a result of seasonal rhinitis or year-round rhinitis caused by dust, animal dandruff, and so on.
In urticaria, the medication relieves painful skin reddening and itching. The noticeable effect is observed in just one day of use.
Billargic pills start to act within one hour after the first pill intake. The effect of one pill lasts for 24 hours so the drug is taken once a day.
When is the use of Billargic contraindicated?
- Pregnant and breastfeeding women should not buy generic Billargic because the safety of the medication isn't studied in these group of patients sufficiently.
- The medication should not be given to kids younger than twelve years because its safety in this group isn't sufficiently studied.
- If you start taking the medication and develop severe adverse reactions, it means that you are intolerant of its active agent and should not use Bilastine.
How is Billargic used?
The standard dosage of the medication both for allergic rhinitis and urticaria is a single 20 mg pill a day. It is preferable to take the pill in the morning before breakfast or two hours after a meal because food and the consumption of fruit juices significantly influence the bioavailability of the medication.
The dosage is standard for adults and kids older than twelve years of age.
The pills can be taken continuously as long as a person is exposed to an allergen. For instance, in year-round rhinitis you can use the drug all year, but if you suffer from seasonal rhinitis, you can stop using Billargic once the pollen season is over.
Dosage adjustments
Elderly individuals, individuals with liver or kidney failure do not need any dosage adjustments. However, individuals with kidney failure should be careful about what drugs they use along with Billargic as some can increase the level of the drug in the blood plasma and enhance the negative effects.
Overdose of Billargic
During the clinical trials, the use of the dosages 11 times exceeding the regular one was tested and no severe side effects were observed. If you overdose and develop adverse effects, you can induce vomiting and use treatment measures aimed at the elimination of the negative symptoms.
What adverse effects can Billargic cause?
The medication is in general well tolerated and the incidence of adverse effects such as headache dizziness, and others is the same as in the use of placebo pills. But in rare cases certain negative effects can develop
- Infections: herpes of the oral cavity.
- Metabolism: increased appetite.
- Mental health: anxiety, insomnia.
- Hearing and balance: ringing in the ears, dizziness.
- Heart and vessels: extended QT interval, irregular heartbeat, and others.
- Central nervous system: sluggishness, headache.
- Respiratory system: shortness of breath, dry nose.
- Digestive system: pain in the stomach, abdominal pain, nausea, discomfort in the stomach, diarrhea, dry mouth, dyspepsia, gastritis.
- On the part of the skin: itching.
- General: fatigue, thirst, worsening of existing diseases, fever, asthenia. None of the possible adverse reactions by Billargic are life-threatening so you should not discontinue pills use in their occurrence. If any adverse effects cause severe discomfort and do not fade over a couple of days, inform your doctor.
Can Billargic be used with other medicines?
- If you use any medicines at the time you buy Bilastine and start using it, you should inform your doctor especially if you suffer from severe kidney failure and take inhibitors of P-glycoprotein (ketoconazole, erythromycin, cyclosporine, ritonavir, diltiazem, etc.). These medicines slow down the metabolism of Billargic and can contribute to its 2-3 times level elevation in the blood plasma and side effects occurrence.
- You should use Billargic one hour before or two hours after having food or drinking fruit juice because fatty food and juices influence the bioavailability of the medication, i.e. he amount of the drug that is active within the body.
- Billargic doesn't potentiate the effect of alcohol on the central nervous system.
Precautions to follow during Bilastine use
- The medication can be used by people with kidney diseases but it should not be combined with the medicines that inhibit P-glycoprotein (ketoconazole, erythromycin, cyclosporine, and others) because they contribute to significant raise of the drug in the blood plasma and thus the severity of potential adverse reactions.
- There are insufficient data on the safety of the medication use in pregnant women so the use it not recommended. If you suffer from severe allergy while pregnant, consult your doctor first before you buy generic Bilastine.
- This medication is a modern antihistamine which means it doesn't cause drowsiness. However, in some individuals this adverse reaction can develop. During the first few days of Billargic use, it is advised to refrain from driving or operating any machinery while you get used to the medication and see how well you tolerate it.
Where can you buy Billargic?
The medication is available in Europe and Asia. You can order Billargic without a prescription from our online pharmacy and receive your parcel wherever you live as we ship internationally.
Free prescription
Our doctor prescribes Bilastine online for free, and there is no doctor's consultation fee.
Discrete packaging
All orders of Bilastine arrive in discrete unmarked parcels. We leave the shipment description blank.
Billargic (Bilastine ) Reviews:
Common drug rating:
5.00
/ Total votes:
1
My order arrived timely, thank you!