What is Astelin? How to Treat with Generic Azelastine.
Drug description:
Generic Astelin is a collective name for all medications identical to the branded drug Astelin but made by other manufacturers who cannot use the registered brand name. Generics are cheaper than the brand-name medicines yet render the same effect which is why more and more people prefer buying them instead of the expensive advertised medicines. At this webpage you can order Generic Astelin nasal spray which is used in the symptoms of allergic rhinitis such as runny nose, stuffy nose, itching in the nose, sneezing, and swelling of the nose. It also helps to cope with the allergic reactions of the eyes. However, in some cases, nasal spray will cope with both conditions but in others, the use of eye drops is needed for allergic conjunctivitis.
Benefits:
Helps to cope with the symptoms of allergic rhinitis
Analogs:
Arzep, Rhinolast, Alerdual, Allergodil, Rinalin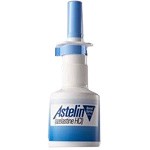 Actual product may differ in appearance from image shown.

More facts about
Generic Astelin (Azelastine 10 ml)

:
Generic Astelin (Azelastine 10 ml)

guide:
What is the medication called Generic Astelin?
Astelin is a brand name of an antihistamine, i.e. anti-allergic medicine based on Azelastine. The same preparation based on the same main ingredient is as well marketed by other pharmaceutical companies under different trade names and is usually cheaper than the branded medication. You can find it if you look for a way to buy Generic Astelin. It is possible because the formula of the medication had been created a long ago and is currently is not a know-how. Generic medications are promoted by the WHO as a part of the program to make all medications available for all people in the world regardless of their income level.
The medication is used in allergic rhinitis and conjunctivitis and comes in two forms: nasal spray and eye drops. At our online pharmacy, on this particular web page, you can order Generic Astelin nasal spray. If you need another formulation, please look through our range of anti-allergic medications or contact our pharmacists.
Is the generic inferior to the branded preparation?
The idea of generics production is to cover the world's demand for medications and to make expensive branded medicines affordable to all people. They cannot be inferior to the branded medications because then there wouldn't be any point of making these medicines. Their manufacturers are obliged to strictly follow the original formula, use quality ingredients, and get their medications tested for the approval. You can also always check if the medication you are about to purchase corresponds to the branded medicine by checking the active ingredient name. It is always written on the original box of pills, blister, or vial under the trade name. In case of Generic Astelin, it must be Azelastine.
When should you buy the spray?
Although at our online pharmacy you can buy Astelin without a prescription, it is always better to get a consultation and a proper diagnosis from your doctor to be sure that the nasal spray will suit your condition. Moreover, in the majority of cases, the allergy is treated with other measures and means alongside the nasal spray. For instance, your doctor can prescribe you antihistamine pills, vitamins, or medicines to improve immunity, sorbents to wash out the allergens from your body, nasals rinsing, and so on.
This formulation of the medicine is used in allergic rhinitis (runny nose, stuffy nose, sneezing) mainly caused by pollen. The same preparation but in other form is used for conjunctivitis, i.e. inflammation, swelling, watering, and itching of the eyes because of allergy.
How to use the Astelin?
In this medication guide, you can find general recommendations that can suit or not suit you. Please consult your health care provider before you buy Azelastine and start using it.
The spray is used intranasally. At each spraying, 0.14 ml of spray (0.14 mg of the active substance) is released. The duration of the therapy and the treatment scheme is appointed by the doctor.
Before the first use, several sprayings into the air should be done to uniformly dispense the preparation. After each use, the bottle should be closed with a lid.
The regular therapeutic dosage is 1 spray in each nostril. The maximum dosage per day is 2 sprays per nostril per day with an interval of 8-10 hours between the applications. In this case, the daily dosage would be 0.56 mg of Azelastine.
During the application, the head should be kept straight, it is not recommended to strongly inhale or exhale through the nose during the application of the spray. Before applying the spray, you should clear the nasal passages from the mucus. For example, rinse your nose with salty water.
The spray is recommended to be used until the symptoms elimination or for a long-term therapy. However, it is not recommended to use the spray for more than 6 consequent months.
How does the medication render its anti-allergic effect?
Azelastine hydrochloride is a phthalazinone derivative of the new structure. It renders a prolonged anti-allergic effect due to pronounced selective properties of a histamine H1 receptor antagonist.
Azelastine inhibits the synthesis or release of chemical mediators involved in early and late stages of allergic reactions, such as leukotrienes, histamine, inhibitors of PAF and serotonin.
Contraindications for the spray use
You should not buy Generic Azelastine if you have previously used the medicine based on this substance and experienced any side effects as you may have hypersensitivity to the medication. It is also not recommended to use the spray in the therapy of children under the age of 6 years.
The preparation is also contraindicated for pregnant and breastfeeding women. It means that if you breastfeed, you will need to start using baby formula to feed the baby and only then start using the spray for your treatment.
Precautions
During the first days of the therapy, it recommended to avoid driving vehicles to see how the spray is tolerated. If you don't experience any adverse reactions that can interfere with your ability to focus and pay attention to the road, you can start driving during the therapy.
What adverse reactions can you expect during the therapy?
The most infamous side effect of all antihistamine medications is sleepiness. Beside it, the nasal spray can contribute to the development of vertigo (dizziness), nausea, increased fatigue, local symptoms such as burning sensation in the nose, nasal bleeding, sneezing, and itching. Typical allergic reactions on the spray use are urticaria, rash, and itching.
If you lean your head back while spraying, you can also suffer from a lasting bitter taste in your mouth.
In the occurrence of these or other negative symptoms that you think can be caused by your current therapy, you need to seek a consultation of a specialist who is qualified to recommend you a replacement medication.
Can the spray be combined with other medicines?
All medications or beverages that contain alcohol (ethanol) can enhance side effects caused by the medication, especially, the ones from the part of the nervous system. Before you order Astelin, make sure that you check the instructions of all medicines that you use if you use any and start using the spray only if it is not contraindicated to be used with your pills. If you don't have instructions or are unsure about the preparations' compositions and contraindicated interactions, please consult your health care provider.
Overdose with the medication
It is highly recommended to use the spray in the recommended dosages. If you still have stuffy nose or runny nose, you need to use additionally other medications such as anti-allergy pills or other nasal drops or sprays.
In an overdose with Astelin, patients can develop somnolence, tachycardia (rapid heart rate), apathy, and lowering of the blood pressure.
The specific antidote of Azelastine is unknown. If you have developed signs of intoxication with the medication, you need to seek medical assistance and receive symptomatic therapy.
Can the medication be bought without a prescription? Where to buy Astelin?
In the U.S. and some other countries, almost all medicines a bit more potent than aspirin are sold with prescriptions only. It makes the purchase of drugs very inconvenient especially in such conditions as allergy. Fortunately, the majority of such medications are sold without Rx in other countries and you can order Generic Astelin from our online pharmacy even if you don't have a prescription. Our office and warehouses are located in the countries where such drugs are sold over-the-counter and it is legal to buy prescription-only drugs abroad if you get them for personal use so you don't have to worry that you may get in trouble for getting the spray without Rx in your country.
Moreover, we not only sell the same medicines as your local pharmacies without Rx but also set much lower prices on them! You can greatly save even paying for the delivery. We also offer special bonuses and discounts to our loyal customers. Find out more from our FAQ section.
Shipping of Astelin
We ship all medications sold at our online pharmacy all over the world. It doesn't matter if your medication is sold with Rx-only in your country, you will receive your pills or nasal spray without any problems guaranteed. We also provide tracking numbers even for small orders so you can check the status of your parcel and its place at any time.
Free prescription
Our doctor prescribes Azelastine online for free, and there is no doctor's consultation fee.
Discrete packaging
All orders of Azelastine arrive in discrete unmarked parcels. We leave the shipment description blank.
Astelin (Azelastine) Reviews:
Common drug rating:
5.00
/ Total votes:
15
I recommend the seller. This medicine helps me to cope with seasonal allergy.
I want to order the medication from your website to the UK. How fast is your delivery? Do you offer overnight shipping?

Unfortunately we do not offer overnight shipment as we ship from India with International mail. The fastest delivery time is 14 days, including weekends.
I received my 5 sprays yesterday, do you know if I should store it in a cool place?

According to manufacturer's recommendations, the spray should be stored at room temperature 20° to 25°C (68° to 77°F), no need to keep the medicine in cool place.
All good. Arrived in time. Standard delivery 3 weeks to PA.
How do i know if this spray will help me with allergy I have?

Astelin nasal spray is used in the symptoms of allergic rhinitis such as runny nose, stuffy nose, itching in the nose, sneezing, and swelling of the nose. It may also help cope with the allergic reactions of the eyes.
Great! Fast shipping. Thanks!