What is Asacol? How to Treat with Generic Mesalamine.
Drug description:
Asacol is a brand of the medication based on Mesalamine and used for the therapy and prophylaxis of ulcerative colitis and Crohn's disease in adults and children. The same medication is also available under different trade names and usually cheaper. These medications can be found under the name Generic Asacol though all of them have their own different registered names. The medications have the same effect as the branded medication; they reduce the inflammation and allow ulcers to heal. For the optimal effect, the medications should be used continuously. Find out more about the therapy from our med guide below.
Benefits:
Reduces the inflammation in the bowel and allows ulcers to heal
Analogs:
Mesacol, Wallasa, Asacolitin, Canasa, Claversal, Fisalamine, Lixacol, Mesalazine, Mesasal, Pentasa, Rowasa, Salofalk, m-Aminosalicylic acid, p-Aminosalicylsaeure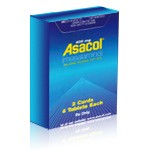 Actual product may differ in appearance from image shown.

More facts about
Generic Asacol (Mesalamine 25 mg)

:
Generic Asacol (Mesalamine 25 mg)

guide:
What is the medication called Generic Asacol?
If you know the brand name Asacol, probably you or someone from your family for whom the medication is prescribed is diagnosed with the nonspecific ulcerative colitis or Crohn's disease. The medication sold under this trade name is based on an anti-inflammatory agent called Mesalamine. However, it is not the only preparation based on the agent. The brand is owned by a certain pharmaceutical company but the formulation is not used exclusively by this company. The same medication with the same or a bit altered formulation can be purchased from other drug makers under different trade names. These medications are collectively called generics of Asacol or generics of Mesalamine. The main benefit of generics is that they are cheaper than the widely advertised branded medicines. And the lower price is especially crucial for people who have to take a certain medication for long periods of time as it is with Mesalamine.
Do generic medicines have inferior quality? Why are they cheaper?
If you want to buy Generic Asacol instead of the branded medicine, you can do so without any worries and here is why. All generic medications are identical to their branded counterparts in terms of quality, composition, and effect. They are cheaper simply because their manufacturers do not invent the medicines but instead use already created formulas. Also, they avoid promoting their medicines and find ways to outsource cheaper production without compromising the quality of the end product.
Generic medicines are promoted by the World Health Organization because they make the most innovative and safe medications affordable and available for people from the developing countries and people from developed countries who cannot afford to spend thousands of dollars on pills every month. The idea that generics are inferior arises from the practice of large drug manufacturers to pay doctors for prescriptions for branded medicines. In other words, doctors are interested in prescribing your branded medicines to get their rewards from the pharmaceutical companies. Yet in fact, no medication can be called a generic or enter the market without proper prior tests for compliance, safety, and effectiveness.
When should you buy Asacol?
The medications based on Mesalamine are used for the treatment of exacerbations and prophylaxis of relapses of ulcerative colitis and Crohn's disease. Although if you are diagnosed with one of these conditions theoretically you can buy the pills and start using them according to the instruction right away, it would be wise to consult your doctor first. It is important to take into account the whole picture before you start using any medications because you may have contraindications for the medicine use, take any pills that are incompatible with the active agent of Asacol, and so on.
The symptoms in which you may want to go to a doctor and ask if you should buy Asacol are:
- Frequent diarrhea or mushy stool with an admixture of blood, pus and mucus.
- False defecation urges.
- Pain in the abdomen (usually, in the left side).
- Fever.
- Loss of appetite.
- Loss of weight (usually in long maintenance of the main symptoms).
- General weakness.
- Pain in the joints.
Some of the symptoms can be lacking or manifested mildly but you have at least one of them, you need to go to a doctor for a checkup.
How to use Generic Asacol?
First of all, we must say that if you order Generic Asacol in the same dosage and formulation as the branded medication prescribed by your doctor, you can follow his or her recommendations without any adjustments. If you don't have the direct instructions from your doctor, you can follow the regular instruction that comes with the preparation.
The granules must not be chewed. The compound of the sachet should be poured on the tongue and swallowed along with a sufficient amount of liquid without chewing.
Adults and elderly patients for the treatment of exacerbations of ulcerative colitis should take 1 sachet of the medication with 3 g of the active substance in it. Alternatively, they can use 1-2 sachets with 1.5 grams. The medication is preferably taken in the morning.
To maintain remission and as a prophylaxis of exacerbations, the daily dosage is 1 sachet with 1.5 grams of the active substance. People with the increased risk of exacerbations can take 3 g a day. It is possible to take the 3 grams dosage in a single intake if there is a difficulty dividing the dosages into several intakes.
The preparation can be also used for the therapy of children older than 6 years of age. During the exacerbations, children must be administered 30-50 mg of Mesalamine per kilogram of the body weight once a day or divided into three intakes. The total daily dosage must not exceed the maximum daily dosage for adults.
To maintain remission and as a prophylaxis of exacerbations, the daily dosage is 15-30 mg of Mesalamine per kilogram of the body weight once a day or divided into three intakes.
The dosage for children can be calculated alternatively as follows: children with the body weight less than 40 kg should be administered a half of the standard dosage for adults and children with the body weight more than 40 kg should take the standard dosage for adults.
The preparation must be taken regularly both in the exacerbations and as a prophylaxis till the desired therapeutic effect is achieved. Usually, the exacerbations of ulcerative colitis are fading within 8-12 weeks and the dosage can be reduced to the supporting one.
Overdose with Asacol
The symptoms of the overdose with Asacol are nausea, vomiting, weakness, sleepiness, and others.
If the symptoms are severe, the therapy includes gastric lavage, use of laxatives, and measures to cope with the symptoms.
Who must not use the medication?
You should not order Asacol if you are allergic or intolerant of one or several components of the medication (especially, derivatives of salicylic acid). Other contraindications include pronounced violations of liver or kidney function, blood disorders, hemorrhagic diathesis, peptic ulcer of stomach and duodenum, last 2-4 weeks of pregnancy, breastfeeding, children's age (up to 2 years or 6 years depending on the pediatrician's decision).
Besides, the medication should be cautiously used in any dysfunction of the liver or kidneys, during the first trimester of pregnancy, and in deficiency of glucose-6-phosphate dehydrogenase.
What adverse reactions can you suffer from when you use Generic Asacol?
When you buy Mesalamine, you should be ready that besides the positive effect the preparation can also cause a wide range of negative reactions. They include nausea, vomiting, appetite loss, pain in the abdomen, flatulence, palpitations, tachycardia, increased or decreased blood pressure, chest pain, dyspnea, anemia, leukopenia, agranulocytosis, thrombocytopenia, allergic reactions, and others.
If you started using the medicine and experience any negative symptoms, you should inform your doctor so he or she would be able to decide whether you can continue the therapy or need another drug.
Interactions with other preparations
Before you start using any medication, you should make sure that you don't use any preparations incompatible with it. For instance, Mesalamine enhances ulcerogenicity of glucocorticoids, toxicity of methotrexate, hypoglycemic effect of derivatives of sulfonylureas, and hypoprothrombinemic effect of anticoagulants. It also slows down the absorption of cyanocobalamin and weakens the activity of furosemide, spironolactone, and rifampicin.
Where to buy Asacol?
Obviously, you can purchase the medication at any drugstore since it is a registered medication that is available both in a form of a branded medicine and various generics. However, taking into account that the medication is taken for 8 weeks daily as a minimum in large doses and continuously in supportive dosages, you may want to save on the therapy. We offer you to order Mesalamine from our online pharmacy in just a couple of clicks and save thousands of dollars on the treatment while getting the same effect as from the branded medicine.
Shipping
Wherever you live, you can order Generic Mesalamine without any worries – we will ship your order to any address.
Free prescription
Our doctor prescribes Mesalamine online for free, and there is no doctor's consultation fee.
Discrete packaging
All orders of Mesalamine arrive in discrete unmarked parcels. We leave the shipment description blank.
Asacol (Mesalamine) Reviews:
Common drug rating:
5.00
/ Total votes:
1
My order arrived timely, thank you.