Drug description:
Xenical (Orlistat) is one of the weight loss drugs available. It works by blocking enzymes in your body which break down fat, thus preventing your body from absorbing fats that you eat. When you take in less fat, you are getting fewer calories and can lose weight easier! Xenical is not for everyone's weight loss needs. Find out more about Xenical including how to take Xenical, its pros and cons, and how to avoid side effects. Save 10% each time you order Phenamax online at our cheap generic shop. Why spend more on your medicines when you can get the same quality for less!
Manufacturer:
Aristo Pharmaceuticals
Synonyms:
Vyfat, Orlipastat, Tetrahydrolipstatin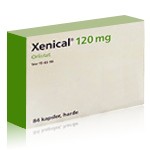 Actual product may differ in appearance from image shown.

More facts about
Generic Xenical (Orlistat 60 mg)

:
Generic Xenical (Orlistat 60 mg)

guide:
What is Xenical?
Xenical contains the drug Orlistat, a type of weight loss drug known as a fat blocker. The way that Xenical works is by blocking certain enzymes in the body which are in charge of breaking down fats into fuel for the body. When these enzymes are blocked, fat cannot be processed by the body. Instead of the fats getting absorbed (for use as energy or, if not needed, stored as fat), they are passed out with bowel movements. Xenical can block about one-third of fats from being absorbed by the body. This causes a significant reduction in calorie intake and makes it easier to lose weight.
Who is Xenical best suited for?
Xenical only helps weight loss by preventing fat absorption; it will not stimulate the body to burn more fat nor suppress appetite. Thus, Xenical is only suited for people whose obesity is caused by eating too many fatty foods. Note that weight problems can occur from eating too much of other types of foods, such as proteins or carbohydrates. To lose weight, you must take in fewer calories than are burned daily. Preventing fat absorption is one way to reduce calorie uptake but Xenical users may still need to reduce non-fat calories as well in order to get results.
Xenical side effects
It is expected that Xenical will cause side effects in users; these side effects are actually a sign that the medicine is working. Because fats consumed will not be absorbed due to Xenical, they get passed out as a bowel movement. Bowel movements will tend to be oily. It is also common for Xenical users to have bowel urgency after eating a fatty meal. With very fatty meals, Xenical can cause other unpleasant side effects like flatulence, oily discharge from the anus, diarrhea, and trouble holding bowels, amongst others. To reduce side effects from Xenical, the fat content of meals should be kept to a minimum. In rare cases, Xenical could cause liver problems. Tell your doctor at once if you have side effects from Xenical like changes to your urine, extreme pains in abdomen, or chronic nausea.
Who should not take Xenical
Xenical is generally considered safe for use in all obese patients. However, there are some conditions which may make it unsafe to take Xenical. Before you order Xenical online, make sure your doctor knows if you have any health problems including: mineral/vitamin deficiencies, kidney stones, thyroid problems, or diabetes. Do not use Xenical while pregnant or breastfeeding.
What should I know before I buy Xenical?
Xenical is not a substitute for a healthy diet or exercise. In order to get the best results with Xenical, you will still need to follow healthy lifestyle changes. Weight loss will only occur with Xenical if you are consuming fewer calories than you burn daily, despite reduced calories from the fat blocking actions of Xenical. Talk to your doctor about how to get the best benefits from Xenical.
Xenical Interactions
Never buy Xenical (Orlistat) without first checking with your doctor or pharmacist to see if it safe to use with your current medicines, drugs, or supplements, particularly other weight loss drugs. Many products are fat soluble, meaning that they only get absorbed into the body through fat. Since Xenical blocks fat absorption, these fat-soluble products may not be safe to take close to Xenical dosages.
What is the difference between Xenical and Generic Xenical?
Xenical is simply a brand name for the drug Orlistat made by Roche pharmaceutical company. Orlistat is also made by other companies, not just Roche. These other brands of Orlistat are often called "generic Xenical." Generic Xenical is exactly the same as the brand-name version but is usually cheaper because the brands do not spend as much money on advertising and other expenses.
Where can I buy Xenical?
You can purchase Xenical at all reputable pharmacies which sell weight loss drugs. To buy generic Xenical under the name of Orlistat, you may need to order Xenical online at a cheap generic shop. When you order Xenical online, always make sure that you are buying the proper dosage strength that you have been prescribed.
Do I need a prescription to purchase Xenical?
Most local pharmacies require you to have a prescription to buy Xenical. However, it is possible to order Xenical online without a prescription though you may be required to submit your health information for review or have a consultation with an online doctor. Even if you are not required to have a prescription to buy Xenical, it is still recommended that you talk to your doctor beforehand to make sure this medicine is right for you.
Free prescription
Our doctor prescribes Orlistat online for free, and there is no doctor's consultation fee.
Discrete packaging
All orders of Orlistat arrive in discrete unmarked parcels. We leave the shipment description blank.
Xenical (Orlistat) Reviews:
Common drug rating:
2.50
/ Total votes:
2
I was very upset when the customs retained my order of Xenical but I've contacted rxshop customer service and they re-shipped my order at once. The package arrived in 15 days! Thank you very much!
How ill pay for??

You can pay for your order via E-check.

An E-Check (electronic check) is an electronic version of a paper check used to make payments online. If you have a checking account you can pay by E-Check.