Drug description:
Obestat (Sibutramine) is one of the leading weight loss drugs available. It works by acting on neurotransmitters in the brain so you feel satisfied from meals for longer. When you eat less, you can lose weight much easier! Obestat is not for everyone's weight loss needs. Find out more about Obestat, how to take it, side effects, and the pros and cons compared to other weight loss drugs. Save 10% each time you order Obestat online at our cheap generic shop with our customer loyalty program. Why spend more on your medicines when you can get the same quality for less!
Manufacturer:
Cipla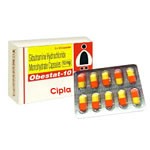 Actual product may differ in appearance from image shown.

Generic Obestat (Obestat 15 mg)

guide:

What is Obestat?

Obestat is a weight loss drug which contains the active ingredient Sibutramine. Sibutramine was originally marketed under the brand name of Meridia but is now made in several generic forms, including Obestat. It belongs to a class of drugs called serotonin-norepinephrine reuptake inhibitors which work by affecting the balance of certain neurotransmitters in the brain. Obestat helps with weight loss by suppressing appetite and making users feel full for longer periods of time after eating.

Who is Obestat best suited for?

Obestat is only meant for obese people who have not been able to lose weight with sufficient dieting and exercising efforts. As Obestat is an appetite suppressant, it will only help weight loss if the obesity is caused from overeating. Obestat should only be used in conjunction with a doctor-approved diet and exercise plan.

Who should not use Obestat?

Obestat should not be used by people who are not obese or at risk of serious health problems due to being overweight. This weight loss drug should also not be used by people with certain health problems as it could be very dangerous, including: hypertension, cardiovascular problems (including past heart attack), history of strokes, eye problems, hypothyroidism, hepatic or renal disease, gallstone problems, seizures, blood problems, mental health problems, or current/past drug addiction. Children should only use Obestat with extreme caution. Obestat should never be used by pregnant or breastfeeding women.

How to take Obestat

Obestat comes as capsules of 15 mg each. Patients should take one capsule daily, at the same time every day. You can take Obestat with or without food. Always take Obestat with a full glass of water. Capsules of Obestat should be swallowed whole, not broken open.

Obestat results

Patients using Obestat should expect to lose about 4 pounds in the first month of using this weight loss drug. If this level of weight loss is not achieved, then patients should talk to their doctor as Obestat may not be the best choice of weight loss drugs. Obestat is most effective when used along with healthy dieting and exercise.

What are the side effects of Obestat?

It is common for Obestat to cause side effects in some users, though this does not necessarily mean that you will have side effects. Common but unserious side effects may include: decreased saliva, appetite changes, feeling nauseous, unusual tastes in mouth, dyspepsia, change to bowel habits, hot flashes, headaches, and pains in joints/muscles. You should let your doctor know right away if Obestat causes you to have unusual pulse, tingly feelings, unusual moods, black stool, black/bloody vomit, becoming bruised with ease, changes to urine, abnormal perspiration, inflammation, jaundice, tremors, hallucinations, or unusual fever.

What should I know before taking Obestat?

Obestat could increase the likelihood of having a heart attack or stroke. Familiarize yourself with the symptoms of heart attack and stroke, such as chest pain, numbness, or weakness. If you have any of these symptoms, get medical help right away.

Obestat Interactions

Never buy Obestat without first telling your doctor or pharmacist of all other medicines or drugs you may take, especially other weight loss drugs. A severe interaction could occur which may have dire or deathly results. These are some of the possible interactions with Obestat: MAO inhibitors, medicines for mental health disorders (like antidepressants), headache medicines, pain killers (particularly narcotics), amphetamines, cough medicines, antifungal medicines, lithium, and some amino acids.

What happens if I take too much Obestat?

Never take more than one capsule of Obestat daily. Taking more Obestat than advised will not significantly help you get better results, it will just make your chances of serious side effects or overdose increase. Symptoms of an Obestat overdose could include changes to your pulse. In event that you forget to take your dosage of Obestat, do not take a doubled dose to compensate for the missed dose. Simply omit the missed dosage and return to your regular schedule.

What is the difference between Obestat and Sibutramine?

Obestat contains Sibutramine, so there is no difference between the two. However, Sibutramine can come under many other names, such as Meridia or Reductil. These versions of Sibutramine may contain different dosage amounts than Obestat. Always order Sibutramine in the exact dosage that your doctor has recommended.

Where can I buy Obestat?

Obestat is not available for sale in all countries. You can purchase Obestat online and have it shipped to your country of residence, though you should be aware of your country's custom regulations for weight loss drugs. Depending on where you buy Obestat, you may not need a prescription for the drug. Regardless of whether or not you need a prescription for Obestat, you should still always consult with your doctor before you order Obestat online.
Free prescription
Our doctor prescribes Obestat online for free, and there is no doctor's consultation fee.
Discrete packaging
All orders of Obestat arrive in discrete unmarked parcels. We leave the shipment description blank.
Obestat (Obestat) Reviews: