What is Keppra? How to Treat with Generic Levetiracetam.
Drug description:
Generic Keppra is a cheaper version of the branded medication Keppra made by another pharmaceutical company. It is based on the same active substance, Levetiracetam, and has the same formula. The medication is used mostly for epilepsy treatment both as a monotherapy and as a part of combination therapy but it can be also used in other conditions that cause seizures. To get more detailed information about the medication including general usage recommendations and standard dosages, read our complete article about it.
Generic name:
Levetiracetam
Benefits:
Helps to reduce the number and intensity of seizures
Analogs:
Levetiracetam, Levron, Kopodex, Levroxa, Levipil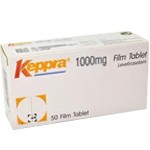 Actual product may differ in appearance from image shown.

More facts about
Generic Keppra (Levetiracetam 1000 mg)

:
Generic Keppra (Levetiracetam 1000 mg)

guide:
What is the medication marketed as Generic Keppra?
If a physician appointed you Keppra, you can safely buy Generic Keppra instead. The discrepancies between the preparations do not affect the quality and efficiency of the therapy. Both medications are based on the active substance Levetiracetam and have the same formula. Levetiracetam is utilized for the relief of cramps and seizures in various conditions that cause them. Generic Keppra is the same medication as Keppra that is just made by another pharmaceutical company that cannot use the brand name well known in the U.S. and the UK. The exclusive patent of the developer of the medication has expired in 2008 which is why now the generics are also available. The main benefit of generics is that they are cheaper. Thereby, there is no point of spending more money on the branded medication while you can get the same pills cheaper.
Why is Keppra more expensive than its generic versions? Is it better?
Although generics gain more and more popularity, many people still believe that the branded medications have an advantage over them. This misunderstanding arises from the higher price and active promotions of the branded medications. Thousands of healthcare providers are paid kickbacks to prescribe their patients namely branded medications while they can use generic medications much cheaper. But why you can buy Generic Levetiracetam substantially cheaper than the branded medication?
There are many reasons for the cheaper prices of generics. First of all, their manufacturers use already developed formulas without investing in the research and development. Secondly, they frequently operate in the developing countries where the production of all preparations is much cheaper because of the cheaper labor force, lower taxes, cheaper raw materials, less expensive transportation, and so on. Thirdly, makers of generics do not put money into advertising of their medications because they know that those who need these medications will find them without any trouble simply asking for a cheaper version of the branded medication at any drugstore.
Brand medications manufacturers indeed have more expenses, they pay researchers and sometimes sponsor multiyear studies to develop a certain medication. They also go through numerous stages of the medication approval which can last for many years and require substantial financial input. However, they still overprice their medications ridiculously. This problem is especially vital in the U.S. where all preparations without an exception cost several times more money than in other countries including other western developed and rich countries. All generics are clinically tested; their manufacturers are also inspected before any drug is released. Therefore, there is no reason for you to believe that the branded medications are better than generics and buy Keppra hoping that it would be more effective than its cheaper generic versions.
When should I buy Generic Keppra?
You can without any doubts opt for a generic version of this medication if your physician gives you a prescription for a branded medication. If you don't have a prescription but have any of the conditions in which Levetiracetam is suitable, you can consult your therapist whether you can begin using the pills as an addition to your therapy or as a replacement for it if there is a big difference in the costs or you suffer from any negative effects from the preparations you currently use.
Levetiracetam is appointed for the monotherapy, i.e. as a single medication, of partial seizures in adults and adolescents over sixteen years old.
As an addition to the main therapy, Generic Keppra is appointed for partial seizures it in adults and children older than six years; in adults and children over twelve years of age for myoclonic seizures, people with juvenile myoclonic epilepsy; primary generalized convulsive attacks in adults and children aged twelve years or more and those with idiopathic generalized epilepsy.
When shouldn't I buy Generic Keppra?
You should not buy Levetiracetam if you have increased sensitivity to Levetiracetam or other derivatives of Pyrrolidone, as well as to any components of the pills.
The preparation is also not encouraged to be used in children younger than four years and women who expect a baby. However, in some conditions, a doctor can decide that the benefit of the preparation use will outweigh the risk for the fetus and appoint the therapy with Keppra as this particular medication can be used as effective monotherapy while other anticonvulsants usually require a combination of several preparations for the effective therapy.
The preparation is advised to be cautiously used in people older than 65 years of age, people with decompensated liver conditions and/or renal insufficiency.
What adverse reactions can I expect from the pills use?
There is not a single medication that is completely safe and free of potential side effects. Therefore, it's only natural that Generic Keppra can also cause certain negative symptoms. The most frequently reported during the clinical trials negative symptoms were somnolence, headache, pharyngitis, fatigue, and dizziness. However, the medication can also cause other symptoms, which is why it is important to pay attention to any symptoms that develop after the therapy start and inform your physician about them so he or she would be able to decide whether you should go on with the therapy with Levetiracetam or start using another preparation. Besides, you should remember that the intensity and likelihood of adverse reactions elevate in a concurrent use of the preparation with other substances. For instance, the risk of appetite loss or even anorexia and significant weight loss increases in the combined use of Generic Keppra with Topiramate.
How is the medication used for different diagnoses?
If your therapist prescribed you the pills, probably he or she gave you precise directions on the dosages and the duration of the therapy. If not, you can follow the official instruction which you can find in the box of pills when you order Keppra from our online pharmacy.
In this section, we provide the info taken from the instruction that accompanies the pills.
The pills can be taken regardless of mealtime with enough amount of water to wash them down without any discomfort. The appointed daily dosage is split into two equal intakes.
Monotherapy treatment regimen
This scheme is suitable for adults and children older than sixteen years. The initial dosage should be 500 mg a day or 250 mg taken twice a day. If the medication is well tolerated, after the two weeks since the therapy start, the dosage can be increased to the standard therapeutic dose of 1000 mg a day split into two intakes or 500 mg taken twice a day. Further into the treatment, if this dosage is insufficient, it can be increased by 500 mg a day (or by 250 mg per intake) every two weeks till the minimum effective dosage that does not exceed the maximum approved dosage. The maximally safe dosage day is 3000 mg split into two intakes or 1500 mg taken two times a day.
Additional therapy regimen
The additional therapy with Generic Keppra is suitable for children older than six years and adolescents younger than sixteen years of age with the body weight not lower than 50 kilograms. The dosages are selected individually by a doctor based on the body weight. The recommended starting dosage is 10 mg per kilogram of the body weight split into two intakes a day. Depending on the achieved effect and tolerance of the medication, the dosage can be increased to 30 mg per kilogram of the body weight split into two intakes a day. Under a doctor's control, the dosages can be increased or lowered by 20 mg per kilogram of the body weight per day every two weeks based on the efficiency and tolerance of the medication till the achievement of the minimum effective dosage.
The therapy of children with the body mass lower than 25 kilograms should be preferably started with a solution of Levetiracetam for oral use.
Children with the body mass over 50 kilograms should receive the dosages for adults.
The additional therapy with the medication in adults and adolescents aged 12-17 years with the body mass over 50 kilograms is started with 1000 mg a day split into two intakes or 500 mg taken two times a day. Depending on the efficacy and tolerance of the medication, the dosage can be subsequently raised to 1500 mg per intake. The dose raise should be made by 1000 mg split into two intakes every two-four weeks.
The cessation of the therapy must be made through the gradual lowering of the dosages. For instance, adults and children with the body weight more than 50 kilograms should reduce the dose by 500 mg per intake every two-four weeks. For children and adolescents with the body weight lower than 50 kg, the dosages should be lowered by 10 mg per kilogram of the body weight a day (or 5 mg per kg per intake) every two weeks.
Dosage adjustments
People older than 65 years and people with renal dysfunction require dosage adjustments based on the indicators of their kidneys function. For detailed dosing reduction information please refer to the complete instruction.
Precautions
Before you order Generic Keppra and start using it, make sure to check with your therapist that you don't take any medications which effect can be influenced by this anticonvulsant and vice versa.
If you overdosed, induce vomiting and take activated carbon. If you still start suffering from severe adverse reactions seek medical assistance.
Where to buy Keppra?
If you have a prescription you can get the medication technically at any local drugstore, but if you want to save, you can order Levetiracetam at this web page.
Generic Keppra shipping
We will ship your order to any country, city, town or village. We ship internationally via standard and express mail.
Free prescription
Our doctor prescribes Levetiracetam online for free, and there is no doctor's consultation fee.
Discrete packaging
All orders of Levetiracetam arrive in discrete unmarked parcels. We leave the shipment description blank.
Keppra (Levetiracetam) Reviews:
Common drug rating:
4.00
/ Total votes:
1
Have no complaints, the drug works good, the price is affordable.