Generic name:
Mefenamic Acid
Drug description:
Generic Ponstel makes analgesic effect, pyretic and anti-inflammatory activity, being more effective than acetylsalicylic acid in action force. Mefenamic Acid is equal to butadiene and acetylsalicylic acid by analgesic activity. It is also equal to these preparations in pyretic effectiveness. The acting mechanism of this drug is close to other nonsteroidal anti-inflammatory reagents. The preparation active component suppresses biosynthesis of prostaglandins (prostaglandins are biologically active agents that are produced in every organism. Mefenamic Acid is applied to be fast help to treat rheumatism, unspecific infective polyarthritis (arthritis), arthralgia (articular pain) and muscle pain, neuralgia (pain that is spread over the nerve), toothache and headache and as effective pyretic reagent to better fever condition. Anti-inflammatory mechanism is determined by the preparation ability to suppress inflammatory mediators and reduce activity of lysosomal enzymes that take part in the inflammatory process. It stabilizes protein structures and cellular membranes to increase cellular resistance to inflammatory harmful effect.
Indications:
mild to moderate pain in adults and children who are at least 14 years old (rheumatism, unspecific infective polyarthritis (arthritis), arthralgia and muscle pain, neuralgia, toothache and headache and as effective pyretic reagent to better fever condition), menstrual pain
Synonyms:
Meftal, Bonabol, Coslan, Lysalgo, Mefacit, Mefenacid, Namphen, Parkemed, Ponalar, Ponstan, Ponstil, Pontal, Tanston, Vialidon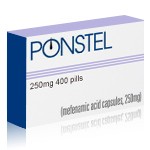 Actual product may differ in appearance from image shown.

Generic Ponstel (Mefenamic Acid 250 mg)

guide:
Drug Formula
Active reagent - Mefenamic Acid. 1 pill contains ?cidum mefenamicum - 500mg or 250 mg. The additional components: starch, methylcellulose, croscarmellose Na, octadecanoic acid, magnesium stearate.
Pharmacological Effect
Mefenamic Acid belongs to NSAID group to be the generic from anthranilic acid. It makes analgesic, pyretic and anti-inflammatory effects.
Drug Indication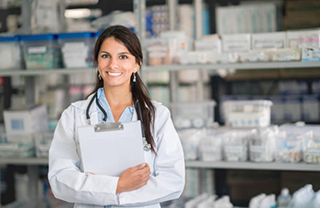 Acute rheumatism, nonspecific (rheumatoid) polyarthritis, ankylosing spondylitis, arthralgia, myalgia, neuralgia, headache, toothache, fever, infective-allergic myocarditis, dysmenorrhea, PMS, cold-related diseases, pyretic diseases, flue, periodontal diseases.
Application Form
The preparation is applied peroral after meal. For kids after 12 years and adults: 250-500 mg of preparation 3-4 times a day. The maximum available dose is 3000 mg of Ponstel per day. If it is necessary to continue medicament treatment, the daily dose is 1000 mg. For kids 5-12 years: 25- mg 3-4 times a day. Therapeutic term takes 20-60 days. Symptomatic therapy of pain syndrome needs short treatment course about 7 days.
Contraindications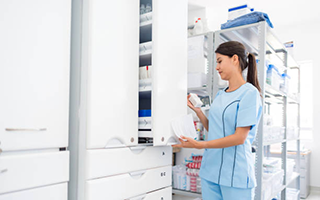 Hypersensitivity, gastric and duodenum ulcer, inflammatory diseases of gastrointestinal tract, kidneys diseases and blood making organs disorders.
Side Effects
The side effects are usually met on the part of gastrointestinal tract to show as indigestion, abdominal discomfort, epigastrium pain, diarrhea, liver enzymes increased secretion. Preparation therapy leads to gastric ulcer and gastrointestinal bleeding. There is a risk to have such dangerous side effects as:
Heart-vascular system: increase in arterial pressure, dysrhythmia, peripheral hydrops, congestive heart failure - seldom;
Central nervous system: seldom - sleep disorders, impatience;
Genitourinary system: simple kidneys inflammation, functional kidneys disorders, dysury, albuminuric, hematuria;
Respiratory system: bronchial spasm, breathlessness;
Haematological effects: eosinophilia, agranulocytosis, immune thrombocytopenia, hemolytic anemia;
Allergic reactions: rash, urticarial fever.
If you buy Generic Ponstel to take it for long treatment (12 months and more), there is a risk to have hemolytic anemia, reduced hematocrit, blood making disorders. There is a risk to have vomit, convulsions if the preparation concentration in blood is 100-200 mgkg and more.
Drug Interaction
If you order Generic Ponstel to take it all together with other medications, there is always a risk to have unavailable effects:
Opioid analgesics, dicoumarin, ?6,?1 vitamins, phenothiazine generics increase Ponstel effect; Anticoagulants, vitamin K antagonists are increased by Ponstel treatment; Methotrexat negative effect is increased by Ponstel; Warfarin, NSAIDs increase risk of gastrointestinal disorders; Antacids increase Ponstel bioavailability to power up analgesic side effect.
Safety Practice
It is not recommended to buy Mefenamic Acid for pregnant patients because of strong preparation influence over the baby's cardiovascular system. The preparation interferes into the maternal milk. This fact gives strong limitation to take it by pregnant and lactating mothers. It is recommended to take preparation after meal with milk to avoid gastrointestinal problems in future. Pay attention to crossed sensibilization if you take Mefenamic Acid all together with other NSAIDs. Having any disorders, including diarrhea, it is necessary to stop treatment and consult the doctor.
Mefenamic Acid must be carefully taken by aged patients. The patients that are suffering from epilepsy, allergy, asthma, diabetes mellitus, heart attacks, blood circulation, stenocardia, porphyria, hepatic dysfunction, kidneys dysfunction must be examined by doctor to get consultation about the preparation dosing. This group of patients needs special therapy.
Overdosing
Mefenamic Acid has severe tendency to cause acute erosions and ulcers of gastrointestinal organs if you took wrong dose. There is a risk to get tonoclonic spasms for the reason of overdosing. Treatment: symptomatic therapy, sorbents, gastric lavage, artificial diuresis, urinary alkalinization. Hemodialysis is not effective to be applied as medical treatment to better patient's condition.
Special Notice
Mefenamic Acid is not recommended to use it for patients who have allergic reaction to NSAIDs or aspirin. It is also dangerous for patients that have heart diseases, hepatic or kidneys dysfunctions, acute cirrhosis. There is a big group of patients that must take pain killers just according to their prescription in order to avoid dangerous effects. They are allergy, dehydration, epilepsy, asthma, stenocardia, blood circulation disorders, brain attack, porphyria, hepatic and kidneys dysfunctions. These situations need to lower preparation dose or change treatment situation.
To better the situation and help to the patient's stomach to act soft and slight, it is recommended to take Mefenamic Acid after or at the moment of meal. The treatment therapy must be stopped if you noticed diarrhea or rash.
If your treatment term is long, it is necessary to control the blood markers and hepatic and kidneys markers. Mefenamic Acid is not recommended to take when you are on driving. It is also not recommended to take by young patients before 5 years.
Where to Order Mefenamic Acid Online?
Generic Ponstel is non-prescription preparation. It is safe if you take it in the right way. In short, it does not need special prescription to buy it online in the most of world countries. There is an opportunity to buy Generic Ponstel in a combination with other pain killers if it was prescribed. You can also carefully combine Mefenamic Acid with other medications if they are not included in the prohibition list to support drug interaction. You need no recipe for any Paracetamol combination if you shop online.
Rxshop support clients just with high quality original drugs and generics. This is the legal pharmacy that meets high standards and regulations. The main advantages you get by shopping online are: special prices, best drugs and generics, no prescription, 100% anonymous shipping, FDA approved medications, clients support service, fast worldwide shipping, correct warranty terms and regulations.
Generic Ponstel (Mefenamic Acid) Shipping by Rxshop
You can order Generic Ponstel online. You order can be tracked on usps.com or another postal services that is available on your territory. USA shipping via USPS is available for American citizens. Anyway, there is always an opportunity to order from different countries. Rxshop advantages consist of: worldwide shipping with track, money back, special prices, safe and fast internet order and shipping, available payment system: E-Checks, Wire Transfer. No prescription!
It is very important but you pay nothing to participate in Rxshop shipping program and you can stop anytime you like. The process of signup is simple and free. What is more, the process of making order, signing up and shipping is available for different countries and different i-providers. Have any doubts about the preparation you are going to order? Have any doubts about the paying system or delivery service? Need consultation? Online specialists are ready to give you free online consultation to approve or check your position.
Free prescription
Our doctor prescribes Mefenamic Acid online for free, and there is no doctor's consultation fee.
Discrete packaging
All orders of Mefenamic Acid arrive in discrete unmarked parcels. We leave the shipment description blank.
Ponstel (Mefenamic Acid) Reviews: