What is Persantine? How to Treat with Generic Dipyridamole.
Drug description:
Generic Persantine is a drug that works as a platelet inhibitor. It's another name is Dipyridamole. The indication for prescription is to prevent blood clots appearance after surgery of heart valve. The mechanism of action has not been studied yet. To make the treatment process more effective, this particular drug is used in combination with other preparations that thin the blood and help its flow through the blood vessels. The drug is manufactured for mouth administration. To buy Generic Persantine you must have a doctor's detailed direction of its usage and course duration. Pharmacists usually demand the prescription from customers. It is highly important to follow every single detail from your prescription label to prevent side effects' approach. Uncontrollable decreasing of the dose may lead to insufficient amount of the active ingredient in blood that will not be able to fight with clots. Increasing the portion without doctor's permission and instructions may call out extreme allergies or even poisoning, making the health condition even worth instead of improving it. This article has educational purposes and is not a recommendation for usage.
Generic name:
Dipyridamole
Benefits:
Prevents blood clots appearance after surgery of heart valve
Analogs:
Aggrenox, Cardioflux, Cardoxil, Coribon, Coroxin, Dipyridan, Gulliostin, Kurantil, Natyl, Permiltin, Piroan, Protangix, Stenocardil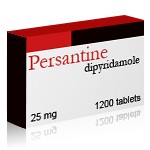 Actual product may differ in appearance from image shown.

More facts about
Generic Persantine (Dipyridamole 25 mg)

:
Generic Persantine (Dipyridamole 25 mg)

guide:

The discussed medication is an antiplatelet drug and immunomodulator. It is known that its active ingredient (dipyridamole) has slowing down effect on thrombocytes' aggregation. Another way of its action is to improve the microcirculation in body. It positively affects blood vessels, making them wider and, as a result, increases the speed of coronary blood stream.

The exact mechanism of action is not known precisely. Specialists suggest that Dipyridamole increases the amount of adenosine, a specific chemical in the organism that widens blood vessels and prevents blood clots appearance. This substance is also able to decrease the perfusion of ischemic zones of myocarde and increases the non-specific resistance to viral infections. This particular preparation may also be prescribed to treat other health conditions by the decision of the competent specialist.

There are next illnesses that may be treated with the discussed medication: treatment of brain blood stream dysfunction of the ischemic type, preventing arterial and veins thrombosis and its complications, microcirculation impairment of any kind, and treatment of viral inflectional diseases. One of the most frequent indications for prescription is preventing thromboembolic incident after heart valve surgery.
Instructions
Each pharmaceutical products must be treated in appropriate way, especially those that treat serious health problems and may have severe side effects. The described medication belongs to this category. It is vital to take the pills just the way it has been prescribed by the competent specialist. The doctor must provide you with all information that refers to the drug, including side effects and contradictions. Ask him any questions that disturb you or you have doubts about.
Tell your doctor if you have any cardiovascular disorders or have allergic reactions (hive, hardened breathing, or swelling of face) on any pharmaceuticalproducts. Keep all recommendations of your health care provider without making any changes.
Usage and dosage
Check your prescription label to make sure that you are taking the proper dose of the drug. Increased or decreased portion may cause health problems. Pills are taken orally without food. Not less than 2 hours should pass from your last meal. Full stomach slows down dissolution and slows down the actions of the substance. The only reason for taking the tablet with food is its negative impact on the ill stomach of the patient (stomach upset, irritations, heartburns, or ulcers).
It is important to consume the preparation at the same time each day. Do it regularly for better effect. Try to avoid missing the dose. If you feel that you may forget about it, put a reminder on your cell-phone. If it happens that the portion is missed, do not double the next one. Skip it and keep using it as usual. Do not stop the treatment course if it has not been approved by your health care provider.
Every patient has its own dose of the preparation, depending on his medical condition. Usually, it is taken four times per day. The dose may vary from 50 to 600 mg per day. Generic Persantine 25 mg, 100 mg, pillsis prescribed depending on the condition that is treated. To prevent dyspepsia, take the tablet with milk. Do not use the portion that was prescribed to another person and do not recommend your personal dose to other patients.
Avoid taking bigger portion of the substance regularly. Eliminate any danger of confusion it with other medications. The overdose may have severe consequences including depression, vomiting, diarrhea, and low blood pressure. If you think that you may have the overdose, call your local poison control center for help.
Side effects
Improper usage of any pharmaceutical product may call out severe side effects, allergic reactions, or poisoning. Look carefully through this list before you order Dipyridamole and discuss the information with the specialist. Side effects of the described preparation are the following: stomach pain, vomiting, dizziness, headache, itching, and flushing. They belong to the moderate ill consequences, but if you feel that they become more disturbing and painful, contact your doctor.
Severe side effects that may possibly appear are signs of allergic reaction, pain in chest, hepatitis, abnormally fast heart beating, swelling of throat, and pounding in chest. It is necessary to call for medical help if you recognize any of them while using these pills. This is not a full description of the possible side effects. If any unusual signs are detected, report them to the FDA.
Contradictions
Patient with arterial hypotension or those who have recently had myocarde stroke should be very careful, using the discussed medicine and be monitored by their doctor regularly. The same precaution refers to people with cardiovascular disease. Scientists confirm that consuming dipyridamole may cause improper division of blood stream in coronary vessels that precedes intensity of stenocardia symptoms. In this case, it is not recommended to use this ingredient. Discuss with your doctor possible changes in your treatment course.
Dizziness, possibly caused by the preparation may be dangerous in some situations. Avoid driving and operating mechanic tools, or doing another job with the high risk of incidents. Report to your doctor all additional supplements that you take to avoid their negative interaction that may call out severe consequences for your organism.
Keeping
The most suitable place for keeping the described medicine is away from heat, moisture, and sunlight. The place must be dark, dry and the temperature there should not be more than 25 °C to prevent spoiling. Make sure that children and pets cannot reach it. Keep tablets in their original container to lower the risk of confusing it with another drug.
How to buy Generic Persantine?
It is possible to buy this preparation without doctor's prescription online. If it happens that this particular pharmaceutical product is not available in your city or town, order Generic Persantine online. Make sure that the website you choose is reliable and sells original products. Look through the list of companies approved by the government to be sure that you do not buy fake pills. Fake medicine may have ingredients that will make no changes in your health condition, but they may also be poisoning and damaging. Ask your doctor or pharmacist to recommend you a respectful online drug store where you will purchase the drug you need. Major web sites have customers' feedback that you can look through. They also have rare pharmaceutical products in storage.
Dipyridamole shipping by Rxshop
It is also important to choose effective, fast, and reliable shipping company that will deliver your order to you. Rxshop is one of leading companies on the market that can not only take your order, but also deliver it to you in the shortest terms. People who live abroad and have no access to the discussed medication have opportunity to order Dipyridamole from our company and receive it with our world wide shipping service that spreads to different parts of the world.
We use the USA shipping via USPS to deliver orders for our customers in this country. Just give us your address and we will do the rest. To make sure that your package is on its way, Rxshop provides its customers with shipping with track option through which every order can be tracked on usps.com or another postal services.
Free prescription
Our doctor prescribes Dipyridamole online for free, and there is no doctor's consultation fee.
Discrete packaging
All orders of Dipyridamole arrive in discrete unmarked parcels. We leave the shipment description blank.
Persantine (Dipyridamole) Reviews: