What is Avapro? How to Treat with Generic Irbesartan.
Drug description:
The drug called Avapro and Generic Irbesartan is based on the active substance Irbesartan and is used for hypertension caused by various reasons, i.e. old age, diabetes, congestive heart failure, and so on. The drug reduces the pressure in the blood vessels and arteries widening them through the antagonizing of angiotensin II receptor. The drug doesn't influence any other substances and therefore is better tolerated by various groups of patients than other blood pressure medications that belong to the class of angiotensin-converting enzyme inhibitors. Avapro can be used even in children older than 6 years of age. You can find the standard dosages for different categories of patients, contraindications, interactions, and potential side effects from the guide below.
Analogs:
Irovel, Avalide, Irbesarran, Lrbesartan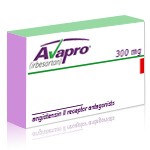 Actual product may differ in appearance from image shown.

More facts about
Generic Avapro (Irbesartan 150 mg)

:
Generic Avapro (Irbesartan 150 mg)

guide:

Avapro and Generic Irbesartan are the identical drugs based on the active substance called Irbesartan used to treat hypertension and some other blood-pressure related conditions.
When should Generic Avapro (Irbesartan) be used?
You can buy Generic Avapro (Irbesartan) if you suffer from constantly elevated blood pressure and use it as a single drug for the condition or in combination with other medicines with the blood lowering effect. It can be also used for the reduction of the heart load in congestive heart failure and in kidney function impairment caused by type 2 diabetes.
What is the mechanism of action of Avapro (Irbesartan)?
The active substance of the medication, Irbesartan, is an antagonist of angiotensin II receptor which is responsible for the blood vessels narrowing. The medication prevents their narrowing and widens already narrowed under the influence of the natural substance angiotensin II blood vessels in the body. This effect contributes to the arterial blood pressure lowering and facilitates the renal blood flow which is why the medication is also used in nephropathy in diabetes type 2.
Different medications use to lower the blood pressure, for example, angiotensin-converting enzyme inhibitors, act differently, they influence the metabolism of the peptide that promotes blood vessels extension called bradykinin. For some people this effect is unsuitable and causes a variety of side effects. In such cases the first-line drugs are substituted with Generic Avapro (Irbesartan) that also provides blood pressure reduction effect but through another mechanism.
How to use the Brand or Generic Avapro (Irbesartan)?
In some people it is advised to use the medication with diuretics such as Hydrochlorothiazide to prevent accumulation of salts in the body and swelling. There is a combination medication that contains both Irbesartan and Hydrochlorothiazide in one pill, it can be found under the name Generic Avalide at our online pharmacy. But your doctor may advise you another diuretic drug if you are allergic to Hydrochlorothiazide, in such case, you would need to buy Generic Avapro (Irbesartan) and the diuretic that your doctor prescribes you.
Here you can find the regular dosages of the medication that are provided in the instruction of the drug but make sure to consult your doctor first as you may need an adjustment due to other conditions that you have or have ever had.
- The standard starting dosage for adult with hypertension is 150 mg taken once a day. Later, the dosage can either remain the same or be increased to 300 mg if the blood lowering effect is insufficient.
- For the treatment of symptoms of nephropathy in adults the standard starting dosage is 150 mg a day taken in one intake. The dosage can be adjusted later on but the maximum daily dosage is 300 mg.
- For the treatment of hypertension in children between 6 to 12 years of age, the standard dosage is 75 mg taken once a day. The dosage can be increased up to 150 mg if the effect is insufficient and the drug is well tolerated.
Children between the ages 13 and 18 should start the treatment of hypertension from 150 mg taken once a day. The maximum daily dosage is 300 mg which is suitable if the effect from the standard dosage is insufficient and the medication doesn't cause any side effects.
The pills' effect isn't influenced by food. Therefore, you can take them with or without meals.
Whom the drug is contraindicated?
You should not buy Generic Avapro (Irbesartan) or other medication that has the same main active substance in its composition if you are pregnant, breastfeeding, suffer from lactose intolerance or glucose-galactose malabsorption or if you have allergy to the drug's components.
Besides the cases when the drug is contraindicated, in some conditions it should be used with caution, i.e. in minimal dosages and with immediate withdrawal once any even the mildest side effects occur. Such conditions include unilateral stenosis of the artery of a single functioning kidney, bilateral stenosis of the kidneys arteries, stenosis of the mitral or aortic valves, obstructive hypertrophic cardiomyopathy, cardiac ischemia, hyponatremia, diarrhea, severe kidney or liver failure, kidney transplant, chronic heart failure of the III-IV class, Intracranial artery stenosis.
The medication has a potent effect and should be also used in the reduced dosages in patients older than 75 years of age at least at the beginning of the therapy.
What are possible adverse reactions of Avapro (Irbesartan) use?
The most dangerous adverse reaction that the drug can cause is the breakage of skeletal muscle tissue that can lead to the kidney failure. It is a very rare adverse effect which can be easily spotted as it has typical symptoms such as muscle ache, increased body temperature, general weakness, nausea or vomiting, and dark urine.
Other possible side effects of Avapro (Irbesartan) can be headaches, vertigo, reddening of the skin, coughing, indigestion, heartburn, hepatitis and other disorders of the digestive system, erectile dysfunction, severe kidney impairment, chest pains, tachycardia, rash, angioedema, cramps, sharply lowered or elevated blood pressure, and hyperkalemia.
In case you notice any undesirable effects after the use of the medication, inform your doctor immediately. If the symptoms do not fade away over time and only worsen, seek medical assistance as you may need urgent hospitalization.
With what drugs Brand and Avapro (Irbesartan) can negatively interact?
The medications can cause severe adverse reactions when combined with diabetes medications based on aliskiren.
The effect of the drug is enhanced with alcohol or any ethanol-containing drugs.
There are other medications that are not advised to be used with any blood pressure lowering medications or Irbesartan-based drugs in particular. Therefore, you need to tell your doctor about all drugs that you used or plan to use before you start taking Avapro pills.
Symptoms and treatment of the overdose with Avapro (Irbesartan)
The overdose with the drug can result in the sharp lowering of the arterial blood pressure which can lead to dizziness, weakness, confusion, and fainting. If you have overdosed, you need to seek immediate medical assistance as the symptomatic therapy should be conducted in the hospital where your doctor would be able to control your vital functions and take necessary measures right away if any threat occurs.
Is there a difference between the brand-name drug and the generic?
According to the rules established by the World Health Organization, the drugs can be called "generics" of a certain brand-name drug if they are made using the same chemical formula and ingredients as the brand drug. Therefore, there is no difference in the composition and effect of the brand name and generic version of the blood lowering medication based on Irbesartan. Nevertheless, the drugs are made by different pharmaceutical companies what explains the differences in their names and prices. If you want to have a qualitative treatment at an affordable price, you should buy Generic Avapro from our online pharmacy.
Where to buy Avapro (Generic Irbesartan)?
Though the drug is sold almost at every pharmacy in the U.S., the best way to obtain it is an online drugstore situated abroad. First of all, online pharmacies based in other countries do not ask you for a prescription as they can sell the drug over-the-counter. Secondly, they are able to set lower prices than your local drugstores where even generics are highly overpriced. Our additional advantage is that when you buy the pills from our pharmacy and leave a review on our website or other website about us, you will get bonus pills with your next order. Find out more about our special offers at the FAQ section of our website.
Avapro (Irbesartan) shipping by Rxshop
We offer you two types of worldwide shipping: standard and express. Standard shipping is cheaper and is perfect if you want to buy medications that you need to use regularly and now want to buy them in advance. But if you need the medication urgently, express delivery that takes only from 7 to 12 days is your best choice. Moreover, we will ship your order for free if you order pills for $170 or more per one parcel.
Free prescription
Our doctor prescribes Irbesartan online for free, and there is no doctor's consultation fee.
Discrete packaging
All orders of Irbesartan arrive in discrete unmarked parcels. We leave the shipment description blank.
Avapro (Irbesartan) Reviews:
Common drug rating:
5.00
/ Total votes:
1
Well packed ,excellent service