What is Moduretic? How to Treat with Generic Amiloride Hydrochlorothiazide.
Drug description:
Generic Moduretic is a term used for all drugs with the same composition that are identical to the brand drug known mostly as Moduretic in the U.S. Such drugs are made by different pharmaceutical companies who have to register different names yet are obliged to comply with the production formula and norms. The medications are combined drugs consisting of two substances that lower the blood pressure and help washing out excessive sodium from the body as needed in certain conditions. The medication can be used only in adults and requires cautiousness in liver or kidney diseases. Find out more about the dosages, indications, contraindications, and so on, from the detailed description below.
Generic name:
Amiloride Hydrochlorothiazide
Analogs:
Amyloride, Biduret, Dihydrochlorurit, Dihydroxychlorothiazidum, Hydrochlorothiazid, Hydrochlorthiazide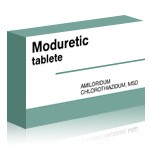 Actual product may differ in appearance from image shown.

More facts about
Generic Moduretic (Amiloride Hydrochlorothiazide 2.5 mg)

:
Generic Moduretic (Amiloride Hydrochlorothiazide 2.5 mg)

guide:
What is Generic Moduretic?
Generic Moduretic or Generic Co-amilozide is a term used for combination drug which effect is due to the two active substances Amiloride and Hydrochlorothiazide. We say that these names are "terms" because they are not registered brands or trademarks but rather terms used to help people who want to buy a cheaper identical version of the brand medication to find it easier based on the names they are familiar with if they reside in the U.S., UK or Canada where these names for the drugs are mostly used.
When can you use Generic Moduretic?
As with any other medication, it is preferable to buy Generic Moduretic if your doctor prescribes or recommends you to use the drug. Of course, your therapist most likely will prescribe you the brand-name drug but it doesn't mean that you cannot opt for a generic version. However, make sure to check that it corresponds in the active substance and composition to the medication appointed by your healthcare provider who takes responsibility for your treatment.
Amiloride/Hydrochlorothiazide is primarily prescribed for hypertension, congestive heart failure, cirrhosis of the liver accompanied by ascites, and swelling caused by water retention in the body, and other conditions in which the diuretic (water pill) effect is needed to cope with the symptoms.
What is the dosage regimen if you order Generic Moduretic online?
If you buy authorized and licensed generic that is properly tested and approved, which is a must in case you buy Moduretic from our online pharmacy, you can use the medication in absolutely the same manner as your physician prescribed you or according to the instruction that comes with the drug. Here you can find the information about the generally accepted dosages identified during tests:
The starting treatment daily dosages for adults for hypertension and congestive heart failure are the same – 5 mg/50 mg of Amiloride/Hydrochlorothiazide. The daily dosage can be taken either in one or two intakes. Subsequently, if the drug is tolerated well but no sufficient effect is achieved, the daily dosage can be increased to 10 mg of Amiloride per 100 mg of Hydrochlorothiazide or two standard pills. The increased dosage is also taken either in one intake or divided into two dosages. Further increase of the dosage is fruitless. If the effect is not achieved with the increased standard dosage, then you need to consider other medications for your condition rather than further increasing the daily dose.
Dosage adjustments of Moduretic
People with mild to moderate liver or kidney function impairment and elderly patients should take the medication with caution, i.e. frequent monitoring of potassium levels is advised since in them the risk of hyperkalemia is increased compared to patients with healthy liver or kidneys.
How does Amiloride/Hydrochlorothiazide act?
For better understanding how the medication provides the effect it is used for, here we share the simplified information that can be understood by the people with no medical background. If you want to find more details, please refer to the instruction that comes with the drug when you order Moduretic.
The medication renders blood pressure lowering effect which is mostly caused by the action of Hydrochlorothiazide action while Amiloride is used in the formula to avoid potassium loss due to increased urination caused by the diuretic.
The effect is observed from one to two hours after the pill intake and maintains within 24 hours after the intake.
Amiloride inhibits sodium re-absorption and promotes its washing out of the body as it blocks the epithelial sodium channel.
Hydrochlorothiazide lessens the re-absorption of sodium and chloride ions, enhances the excretion of magnesium ions, and lowers washing out of calcium ions and uric acid. It also oppresses the reactivity of the vascular wall as a response to vasoconstrictive effects of mediators. As a result of lowered concentration of sodium ions in the cytoplasm of myocyte of the blood vessels, it causes the lowering of the circulating blood volumes thereby reducing the arterial blood pressure.
What side effects can Moduretic use result in?
Side effects can develop on the basis of the use of any medication and even vitamins and supplements, so it's no surprise that an antihypertensive drug can cause a variety of negative symptoms. It doesn't mean that you will necessarily have any of them but you have to know that they may occur. It would be also great to consult your doctor about what should you do in their occurrence and which of them are the most dangerous in your case.
The most frequent side effects that can occur in the Generic Moduretic use are abdominal pain, nausea, nervousness, shortness of breath, dizziness, rapid or slow heart beat, and others.
What are contraindications for Generic Moduretic use?
You should not order Generic Moduretic if you are allergic to one of the components (including secondary ingredients), if you are diagnosed with hyperkalemia or severe kidney failure. The drug is also contraindicated for children.
The drug is not recommended to be used during pregnancy and lactation.
What should not be used with Moduretic (Amiloride/ Hydrochlorothiazide)?
- The combined use with angiotensin-conversing-enzyme inhibitors increases the risk of hyperkalemia development.
- If you drink alcohol, use barbiturates, other hypotensive drugs, you can suffer from hypotension, i.e. blood pressure below norm.
- Nonsteroidal anti-inflammatory drugs reduce the effect of Moduretic.
- The medication lowers the effect of pressor amines and enhances the effect of nondepolarizing muscle relaxants.
- If you have a prescription both for Moduretic and medications used for diabetes, the dosage of the latter should be adjusted.
- The drug must not be combined with Lithium-based drugs, potassium-containing or potassium-sparing drugs.
What should you do in an overdose with Moduretic?
When you order Amiloride/ Hydrochlorothiazide, even if you can do so without a prescription, you should understand that you need to take the medication responsibly, i.e. complying with the dosage, regime of intake, seeking medical assistance if you experience any of the side effects without neglecting them.
The overdose of the medication can be very dangerous and there is no a specific treatment besides symptomatic therapy that should be done in a hospital. Therefore, if you think that you overdosed, you should immediately induce vomiting and if such symptoms as dehydration, thirst, weakness, numbness in the limbs, increased urination, arrhythmia (irregular heart beat) occur, seek urgent medical assistance.
What is the difference between the brand and generic?
You can safely order Generic Amiloride/Hydrochlorothiazide from our online drugstore as we sell only qualitative drugs that underwent all required tests and are proven to be identical to the brand-name medications before they hit the market.
In fact, all generic medications are identical to their analogs but there is a chance that you will get an inferior medication if you opt for an unknown seller whose prices are greatly lower than the average prices for the same medications among online pharmacies situated outside the U.S. Normally, all pharmacies located in the country highly overprice all products but foreign drugstores that operate online set realistic prices but some of them set even lower prices which can be a sign that they are selling counterfeit meds.
Where to buy Generic Moduretic online?
As we have already said previously, you don't need to buy a brand medication to get the desirable effect. The best way to enjoy the most effective treatment at an affordable price is to order the medication online. Our online pharmacy offers you the pills without prescription and at a price much lower than your local drugstores would offer. Do not be afraid, it is a legal practice since we operate from the country where Moduretic is an over-the-counter medication. As for the low price, first of all, the real price of the medication is quite low but in the U.S. the price regulation is quite poor, so pharmaceutical companies can establish ridiculously high prices.
Moduretic (Amiloride/Hydrochlorothiazide) shipping options
You can opt either for standard or express shipping depending on your financial state and urgency. If you can wait one month for your pills to arrive, you can opt for standard shipping and order pills for 170 Dollars or more and enjoy free shipping.
Free prescription
Our doctor prescribes Amiloride Hydrochlorothiazide online for free, and there is no doctor's consultation fee.
Discrete packaging
All orders of Amiloride Hydrochlorothiazide arrive in discrete unmarked parcels. We leave the shipment description blank.
Moduretic (Amiloride Hydrochlorothiazide) Reviews:
Common drug rating:
5.00
/ Total votes:
1
fast shipping thank you this is a very good company