What is Zestoretic? How to Treat with Generic Lisinopril Hydrochlorothiazide.
Drug description:
Generic Zestoretic is a drug identical to the brand medication used to treat high blood pressure and based on two active substances – Lisinopril and Hydrochlorothiazide. The medication renders a double effect affecting different mechanisms that cause arterial blood pressure elevation and is commonly prescribed when monotherapy deemed ineffective. The medication dosage is selected individually based on the condition manifestations and patient's response to the therapy but the instruction provides general dosage recommendations. To find out more about the dosages, indications, contraindications, interactions, side effects, and measures in overdose, read the medication guide for Zestoretic that can be found below.
Generic name:
Lisinopril Hydrochlorothiazide
Analogs:
Cipril-h, Acercomp, Inhibril, Linopril, Lisipril, Noperten, Presiten, Prinivil, Prinzide, Renacor, Sinopril, Zestril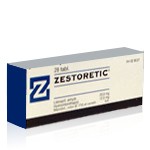 Actual product may differ in appearance from image shown.

Generic Zestoretic (Lisinopril Hydrochlorothiazide 5mg/12.5 mg)

guide:
More facts about
Generic Zestoretic (Lisinopril Hydrochlorothiazide 5mg/12.5 mg)

:
What is Generic Zestoretic?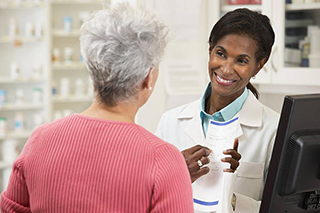 Generic Zestoretic is a term used to help people find cheaper generics of the brand-name drug better known in the U.S. as Zestoretic since 1990s. We say it is a term because it is not a registered name but rather a collective name for the medications with different trademarks but the same composition and effect. All of the medications that can be found under this collective term are combination drugs based on angiotensin-conversing enzyme inhibitor and thiazide diuretic. The active substances of the medications are Lisinopril and Hydrochlorothiazide. They are used in combination to enhance the effect of each other and help to lower blood pressure.
When should you purchase the medication?
You can buy Generic Zestoretic if your physician or cardiologist prescribes you the brand-name medication or other drug with the same composition. The advantage of buying a generic version is that you can save more than a half of the treatment course cost.
The drug is used for high blood pressure treatment when the therapy with a single antihypertensive agent is deemed to be insufficient.
How does the drug act?
The action of the medication is explained by the effects of each of its components separately. The ACE inhibitor, Lisinopril, blocks the transformation of angiotensin type 1 into its active form angiotensin type 2. Angiotensin is a natural substance found in the body which in its form called type 2 contributes to the constriction (narrowing) of the blood vessels, which causes blood pressure elevation.
Hydrochlorothiazide is a diuretic that lowers sodium, chloride and water retention in the body which can also cause the elevation of blood pressure and swelling. It also reduces potassium levels in the blood plasma.
NOTE: this is a simplified explanation of the medication's mechanism of action. If you need more detailed information, please read the instruction or look for the drug description in a drug encyclopedia.
How to use the medication if you buy a generic version of it?
It doesn't matter whether you buy Zestoretic or its generic version if you make sure that the drug you purchase has the same active substances as the medication prescribed by your doctor and check that the dosage per pill of the active substance corresponds with your prescription. You should use generic in the same way as you would use the brand-name drug. In this article we provide generally recommended dosage regimens yet we highly advise you to consult your cardiologist before starting the treatment using this scheme.
The starting treatment dosage is Lisinopril plus Hydrochlorothiazide 5mg/12.5 mg. It can be further increased to 10mg and 12.5 mg, 20 mg/12.5 mg, 20 mg/25 mg but only if no adverse reactions occur during the treatment and the desirable effect is not achieved. You should also remember that other conditions that you suffer from may influence the safety and effectiveness of the drug and increased dosages in particular. It is highly not recommended to increase the dosage unless your doctor tells you to do so. It is possible to adjust the dosage every two to three weeks of the treatment.
Zestoretic dosage adjustments
People with mild to moderate kidney function impairment do not require dosage adjustment.
People with creatinine clearance less than 30 ml per minute are advised not to use the medication at all and opt instead for loop diuretics.
What are contraindications for the medication use?
Do not buy Lisinopril-Hydrochlorothiazide if you are pregnant or breastfeeding, if you have a negative experience using any angiotensin-conversing enzyme inhibitor or thiazide diuretic, have ever suffered from angioedema, are allergic to sulfates, suffer from anuria (inability to urinate) or severe kidney impairment.
The medication is also not recommended for people who suffer from severe liver disease, glaucoma, gout, lupus, severe heart disease including heart failure, diabetes, asthma, and allergy to penicillin.
If you are not sure whether you have any of these conditions, make sure to consult your physician and ask him or her to check your medical history.
What adverse reactions can Zestoretic use cause?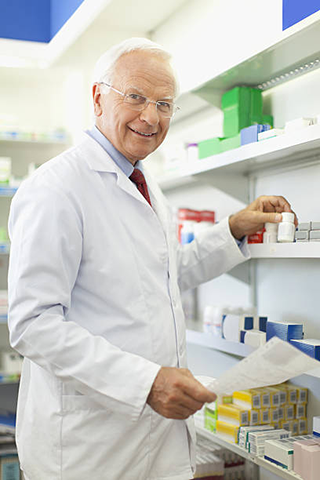 When you order Generic Zestoretic, you should be ready that the therapy can cause certain adverse reactions. The most common adverse reactions include general weakness, fatigue, headaches, dizziness, and others during the first weeks of the treatment. Other side effects include severe chest pain, gout occurrence. The last side effects are serious and require medical assistance.
What combination of Zestoretic with other drugs can result in?
Certain medication can enhance the negative effects caused by Zestoretic, or, on the contrary, the antihypertensive drug can enhance their side effects. Therefore, you should inform the specialist who prescribes you the drug what drugs you use or plan to use while taking Zestoretic.
Here are listed the most notable interactions. Nevertheless, you may not find the drugs that you use in this list yet they will be harmful when combined with Generic Zestoretic and only your doctor can decide whether these drugs are compatible or not.
- The medication effect is enhanced by water pills, antidepressants, and other drugs used to lower blood pressure;
- The medication effect is lowered by the use of nonsteroidal anti-inflammatory drugs including sold over-the-counter ibuprofen and aspirin, sympathomimetics (the substances contained in drugs used for asthma, nasal congestion, and others);
- The combination of Zestoretic with allopurinol, procainamide, steroids, immunosuppressants, and cytotoxics can cause blood composition violations;
- Other potentially harmful combinations include the simultaneous intake of the antihypertensive drug with amphotericin, carbenoxolone, laxatives, potassium-sparing diuretics or any drugs that elevate potassium levels in the body, vitamin D, calcium, and medications to lower high cholesterol, medications for diabetes treatment, digoxin, lithium, and Sotalol.
What should you do in the overdose with Zestoretic?
Do not be confused by the fact that you can buy Generic Lisinopril/Hydrochlorothiazide without a prescription online; the medication is a potent substance that can do a lot of harm if used improperly. Therefore, you should be cautious using it, take the pills at the same time every day to avoid missed dosages and overdose. If you still overdosed, induce vomiting, take sorbents, and seek medical assistance.
How is generic different from the brand drug?
The main differences are that these drugs are made by different manufacturers who are obliged to register the same drug under different trade names. They can also set lower prices than the brand drug maker. Everything else about these medications is the same, i.e. their composition, effect, safety, doses, route of administration, and so on. Therefore, you don't need to spend more money on the brand drug just because it has a more familiar name or your doctor prescribes you namely this medication. To save wisely you should look for a generic and check its active substance and dosage per pill to be sure that you are buying the right drug.
Where to buy Generic Zestoretic?
The best way to get the drug cheaper than at your local drugstores and without a prescription is to buy it from our online pharmacy. We sell the same medications cheaper because we are located in the country where the drug makers set reasonable prices for their medications unlike in the U.S. Besides, in the majority of countries such medications as Lisinopril/Hydrochlorothiazide are sold over-the-counter which is why we are able to sell you the drug without asking you to show us a prescription.
Zestoretic shipping options
First of all, we are glad to inform you that we ship to all countries, cities, and towns. To the U.S. we ship via USPS. Secondly, we have two shipping options – express and standard. While standard takes more time it is cheaper and also comes with tracking number. Make sure to order pills for several months ahead not to have to opt for express shipping so you could save even more.
In our FAQ section you can find out more about pricing, discounts, and how can you win free shipping for your order.
Free prescription
Our doctor prescribes Lisinopril Hydrochlorothiazide online for free, and there is no doctor's consultation fee.
Discrete packaging
All orders of Lisinopril Hydrochlorothiazide arrive in discrete unmarked parcels. We leave the shipment description blank.
Zestoretic (Lisinopril Hydrochlorothiazide) Reviews: