What is Frumil? How to Treat with Generic Amiloride.
Drug description:
Generic Frumil is identical to the brand-name drug Frumil. The drugs are based on the active substance called Amiloride that acts as a potassium-sparing diuretic, lowers blood pressure, and relieves swelling and ascites in liver cirrhosis. The drug can be used in combination with other diuretics or blood pressure medications with other principles of action but cautiously as with certain groups of drugs it can cause hyperkalemia. The standard initial dosage is 5 mg, maintenance dosage is 10 mg. The dosage for people with moderate to severe kidney failure should be cut in two. The drug is contraindicated for pregnant and breastfeeding women, children, and people with creatinine clearance below 25 ml per minute. Find out more about the drug contraindications, interactions, mechanism of action, and adverse effects reading the medication guide below.
Analogs:
Aisemide, Aldalix, Aldic, Aluzine, Anfuramaide, Aquarid, Aquasin, Arasemide, Beronald, Bioretic, Bristab, Bristurin, Cetasix, Depix, Desal, Desdemin, Di-Ademil, Dirine, Disal, Discoid, Disemide, Diucardin, Diumide-K, Diural, Diurapid, Diuretic Salt, Diurin, Diurolasa, Diusemide, Diusil, Diuzol, Dranex, Dryptal, Durafurid, Edemid, Edenol, Eliur, Elodrine, Endural, Errolon, Eutensin, Farsix, Finuret, Fluidrol, Fluss, Franyl, Frumex, Frumide, Frusedan, Frusema, Frusemid, Frusemin, Frusenex, Frusetic, Frusid, Fulsix, Fuluvamide, Fuluvamine, Furanthril, Furanthryl, Furantril, Furanturil, Furesis, Furetic, Furex, Furfan, Furix, Furmid, Furo-Basan, Furo-Puren, Furobeta, Furocot, Furodiurol, Furodrix, Furomen, Furomex, Furorese, Furosan, Furose, Furosedon, Furosemid, Furosemix, Furoside, Furosifar, Furosix, Furoter, Furovite, Fursemid, Fursol, Fusid, Golan, Hissuflux, Hydol, Hydrenox, Hydrex, Hydro, Hydro-Rapid, Hydroled, Impugan, Jenafusid, Katlex, Kofuzon, Kolkin, Kutrix, Lasemid, Lasex, Lasiletten, Lasilix, Lasix, Laxur, Lazix, Leodrine, Less Diur, Liside, Logirene, Lowpston, Lowpstron, Luscek, Macasirool, Marsemide, Mirfat, Mita, Moilarorin, Myrosemide, Naclex, Nadis, Nelsix, Neo-Renal, Nephron, Nicorol, Novosemide, Octan Draselny, Odemase, Odemex, Oedemex, Olmagran, Osyrol, Prefemin, Profemin, Promedes, Promide, Protargen, Puresis, Radisemide, Radonna, Radouna, Retep, Rodiuran, Rontyl, Rosemide, Rosis, Rusyde, Salinex, Salix, Salurex, Salurid, Saluron, Salutensin, Seguril, Selectofur, Sigasalur, Sisuril, Spirofur, Synephron, Transit, Trofurit, Uremide, Uresix, Urex, Urian, Uridon, Uritol, Urosemide, Vergonil, Vesix, Yidoli, Zafimida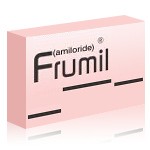 Actual product may differ in appearance from image shown.

More facts about
Generic Frumil (Amiloride 5 mg)

:
Generic Frumil (Amiloride 5 mg)

guide:
What is Generic Frumil (Amiloride)?
Generic Frumil (Amiloride) is a medication identical to the brand-name drug Frumil which is a highly effective potassium-sparing diuretic, a derivative of pyrozinilguanidine.
The original medication was developed in 1967 but the generics were started to be produced later to allow more people to get the drug cheaper. The drug is included in the WHO's List of Essential Medicines.
What is the mechanism of action of Frumil (Amiloride)? How does the drug act?
The medication affects epithelial sodium channel and prevents sodium reabsorption. Thus it increases the excretion of sodium and chlorine and at the same time contributes to the lesser excretion of potassium. Frumil (Amiloride) does not cause a very pronounced diuretic effect as thiazide diuretics.
Through the drug's effect on the heart, the lowering of the re-perfusion injury in ischemic attacks occurs.
As the drug inhibits potassium excretion, it is not advised to use it with any potassium-containing supplements or angiotensin-conversing enzyme inhibitors as hyperkalemia can develop.
When should the drug be used?
The drug is prescribed for the treatment of high blood pressure, congestive heart failure, heart-related swelling, and ascites caused by liver cirrhosis. If you have any of these conditions and your doctor appoints you therapy with Frumil or other medication which effect is caused by the active substance Amiloride, you can buy Generic Frumil (Amiloride) instead of the brand-name drug and save your money on the pills and prescription renewal but make sure to check the dosage per pill when you make an order.
How to use Generic Frumil (Amiloride)?
Before you start using the drug, it is highly recommended to consult your doctor telling him or her about all of the conditions you have or medications you take so he or she would decide whether the drug is right for you and what dosage is more suitable in your case. Here we provide the general instructions.
- For the treatment of hypertension the starting daily dosage for adults is 5 mg. Subsequently, if the drug is well tolerated, it can be increased to 10 mg.
- For the treatment of congestive heart failure for adults the starting daily dosage for adults is 5 mg. Subsequently, if the drug is well tolerated, it can be increased to 10 mg.
- For the treatment of edema (swelling) and ascites for adults the starting daily dosage for adults is 5 mg. Subsequently, if the drug is well tolerated, it can be increased to 10 mg.
Frumil (Amiloride) dosage adjustments
The drug is not recommended to people with real failure with creatinine clearance less than 25 ml per minute. For patients with kidney failure with creatinine clearance between 25-80 ml per minute, the starting dosage is 2.5 mg. Subsequently, the drug dosage can be increased to 5 mg a day.
Whom the drug is contraindicated?
The medication is contraindicated for pregnant and breastfeeding women, people allergic to one or several components of the drug, in hyperkalemia, in severe liver failure, kidney failure with creatinine clearance less than 25 ml per minute.
What side effects can Frumil (Amiloride) cause?
When you buy Generic Frumil, you should be ready that the medication can cause some unpleasant adverse reactions such as nausea accompanied with severe vomiting, rash and itching, indigestion, heartburn, flatulence, constipation, diarrhea, headaches, abnormally lowered blood pressure, and others.
Some of the side effects can indicate that the drug is absolutely unsuitable for you and that you need to stop the therapy. Other effects can fade over time. Nevertheless, once you notice any adverse reaction which isn't fading but only worsens, inform your doctor immediately and stop using the drug.
What reactions can occur in combination of Frumil (Amiloride) with other drugs?
In simultaneous use of the drug with inhibitors of angiotensin-converting enzyme, the risk of hyperkalemia increases as ACE inhibitors reduce the level of aldosterone which leads to potassium retention in the body.
The risk of hyperkalemia also increases when the drug is combined with loop and thiazide diuretics as well as potassium-containing supplements, candesartan, eprosartan, losartan, telmisartan, and valsartan.
When you take Amoxicillin during the therapy with Frumil, the effect of the antibiotic is slightly lowered.
People with kidney function impairment are not advised to combine the drug with Digoxin as the increased concentration of the latter in the blood plasma can occur. Worth noting that in people with normal kidney function such effect had not been noticed.
The combination of Frumil (Amiloride) with hydrochlorothiazide and trimethoprim hyponatremia (lowered sodium level in the blood) may develop, which is due to the additive effect of diuretics and trimethoprim.
The drug lowers the effect of Quinidine pills.
What should you do in the overdose with Frumil (Amiloride)?
If you overdosed with the diuretic, you should seek medical assistance or call your local poison line. The symptomatic treatment under a doctor's supervision may be required. The common symptoms are dizziness, general weakness, extremely lowered blood pressure, fainting, nausea, vomiting, and others.
Is there a difference between the brand-name drug and the generic?
Generic medications are approved and even promoted by the World Health Organization to help people with lower incomes to get the same level of treatment as get people from wealthy countries. Before generics are approved and released onto the market, they undergo thorough tests for the compliance with the drug they replicate in effect, composition, and safety. Therefore, when we offer you to buy Generic Frumil (Amiloride), you can be a hundred percent sure that you will get the same drug as Frumil or Midamor. Obviously though not all sellers are as reliable as our online drugstore. We advise you to check the seller and the manufacturer before you purchase a generic of any medication.
Where to buy Generic Frumil (Amiloride)?
Currently, generic medications are sold not only in the countries with the lower income per capita but can also be found in the U.S. Naturally, the majority of people are unwilling to pay 600 dollars for a medication which costs around 40 dollars in a generic form and is absolutely identical to the expensive drug. However, even generics in the U.S. are more expensive than in other countries. This is the reason why millions of Americans yearly buy drugs from online pharmacies situated abroad.
It is not hard to find a pharmacy that operates from another country as they are the only ones able to sell prescription drugs without Rx to the U.S. citizens. If you worry about the legality of such practice, don't be. First of all, these drugs are sold over-the-counter in those countries. Secondly, you can import prescription drugs for personal use into America. Even if you don't have a prescription, you can still receive your parcel without any trouble as the mail services do not and simply cannot check all of the parcels that come into the country.
The answer to the question is the best way to purchase Generic Frumil is to get it from a foreign online drugstore. But make sure to check the seller's reputation before you do so.
Frumil (Amiloride) shipping by Rxshop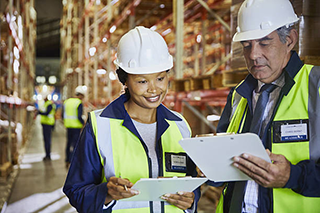 Our online pharmacy ships to any corner of the world. For our convenience, we offer standard shipping which is less costly and is an optimal choice if you take the drug regularly and order it in advance while you still have your pills as hand. This shipping option is tracked and can take up to 25 days.
If you need the pills urgently, you can choose express delivery which is more expensive but usually the parcel comes in less than 7 days. The parcel can also be tracked.
As for the shipping cost, we offer all our customers, including those who buy Generic Frumil (Amiloride) or other medications for the first time free shipping on the orders over 170 dollars. Find out more about our special offers and discounts in the News section and FAQs.
Free prescription
Our doctor prescribes Amiloride online for free, and there is no doctor's consultation fee.
Discrete packaging
All orders of Amiloride arrive in discrete unmarked parcels. We leave the shipment description blank.
Frumil (Amiloride) Reviews:
Common drug rating:
5.00
/ Total votes:
1
very satisfied customer here👍 thank you!