USV Pharmaceuticals Generic drugs
Drug manufacture link:
www.usvindia.com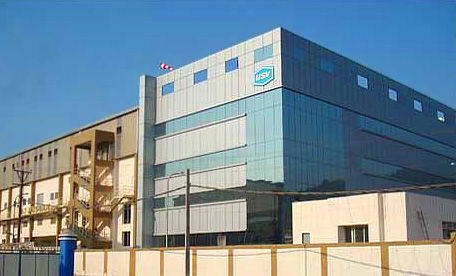 USV Pharmaceuticals is an Indian medications-manufacturing company that was established in 1961 as a joint venture with USV&P Inc. USA, a subsidiary of Revlon. Currently, the company exports either its ready-made products or active pharmaceutical ingredients that are used in other companies' brands to 75 countries of the world. Around 80% of the company's revenue is from the sales in the country and the rest is from international sales.
USV Pharmaceuticals is a leader of the domestic market of oral medications for diabetes by the number of prescriptions and value of the sold drugs yearly. It also occupies leading positions in the segment of cardiovascular diseases being number one by the amount of prescriptions given and number six by the volume of sold drugs. Besides, the company has a substantial presence in the areas of dermatological drugs, gastrointestinal tract medications, medications for the treatment of central nervous system, vitamins, minerals, and nutrients.
USV Pharmaceuticals Research and development
In short, USV Pharmaceuticals is focused on the development of small-molecule active pharmaceutical ingredients along with custom research services for medications development ordered by other companies. The company spends 6.1% of its revenues on the Research & Development which ensures the continuous extension of the research portfolio.
The laboratory of the company occupies over a hundred thousand square feet equipped with all needed for the research up-to-date infrastructure and equipment. The research is driven by a team of 345 scientists including two doctors, 26 PhDs, and 263 post-graduates, the majority of whom get their degrees in the reputable universities in USA, Europe, and Japan. The USV Pharmaceuticals intellectual property portfolio is made out of patent filings for thirty-one inventions of which twenty have been already granted.
To date, the company has a vast portfolio of small molecule active pharmaceutical ingredients: the total number of developed APIs is 52 with 27 being already approved and available for purchase while others are in various stages of development or approval.
The company's portfolio of Finished Dosages consists of immediate release, modified release, and products with 'complex' characteristics which are promoted through ANDA filings and Dossiers linked to supply.
The company's Research and Development department special strengths are production and characterization of polymorphs and particle sizing.
Manufacturing facilities of USV Pharmaceuticals
The company's production facilities are split into several plants that specialize on the production of different types of products. Although all of them are located in one production center, there is a separate API facility that is engaged in the production of APIs and Synthetic Peptides from gram to tonnage scale. Besides the full compliance to current Good manufacturing Practice norms established by the WHO (cGMP), this facility is approved by US FDA, Hamburg Health Authority (EU), TGA Australia, and Korean FDA.
Another subdivision of the manufacturing facility is dedicated to synthetic peptides production. It is capable of producing them in solid phase and solution phase.
The solid oral medication facilities produce tablets, capsules, and coated tablets.
Another facility is dedicated to the manufacturing of sterile fill and finish, i.e. various liquid-vials, for instance, lyophilized-vials, ampoules with injectable preparations, and ophthalmic bottles.
Biotechnology plant is dedicated to the production of large molecules, biotechnological medications in a form of liquid vials, lyophilized vials, ophthalmic bottles, and prefilled syringes.
All of the listed facilities are correspondingly tested and accredited by the agencies responsible for the said formulations of products and the regions where these products are to be distributed.
The preparation of the plants for the testing by the governmental agencies is made with the help of quality assurance department that ensures that all production processes, as well as equipment and procedures, correspond to the highest international quality and good manufacturing practice standards.
Products by USV Pharmaceuticals
The company currently offers its customers 107 APIs and 26 APIs are under development.
Besides, it had developed biosimilars or complete analogs of large molecule drugs that are more complex than generic medications and therefore have a different classification. These innovational medications are made by a few companies in India with USV Pharmaceuticals being among them. The list of biosimilars includes PEG-Filgrastim (a human granulocyte colony-stimulating factor analog that stimulatesthe level of white blood cells, a medication used for certain kinds of cancer to facilitate the recovery from chemotherapy-induced neutropenia); Teriparatide, a recombinant protein form of parathyroid hormone, an effective anabolic (i.e., bone growing) agent used in the treatment of some forms of osteoporosis; Somatropin or Human Growth Hormone; Filgrastim or Granulocyte Colony Stimulating Factor (GCSF) is a naturally occurring growth factor that stimulates the proliferation of neutrophils or white blood cells and is used for certain kinds of cancer to facilitate the recovery from chemotherapy-induced neutropenia; and others.
The USV Pharmaceuticals Company also produces injectable medications in a form of prefilled syringes, ampoules, and so on.
The company plans to introduce seven products in its ophthalmological medications section.
USV produces Octreotide (Somatostatin, Growth hormone inhibitor), Bivalirudin (Anti-thrombotic agent), and Eptifibatide (Anti-thrombotic agent) which all are peptides. Besides, it also develops other peptide medications such as Pramlintide (Amylin analog, Type II diabetes), Exenatide (GLP-1 analog, Type II diabetes), Desmopressin (Diabetes insipidus).
The oral formulations of medications are the vastest division of production of the company: it had already launched 10 formulations and 25 are waiting for the approval.
Social responsibility and contribution
Along with other large Indian pharmaceutical companies, USV Pharmaceuticals actively participates in the country's social life introducing healthcare initiatives for the distant rural areas through the mobile diagnosis and treatment camps; creating prevention and awareness programs; it sponsors multiple hospitals and schools; makes sure the plants correspond to the newest and strictest environment protection standards and reduce the environment pollution every year.
You can find more detailed and precise information on each of the programs on the USV Pharmaceuticals official website.
Products made by USV Pharmaceuticals you can buy at Rxshopmd.com
Currently, we offer you the following medicines made by USV Pharmaceuticals:
- Tricor (Fenofibrate) is a hypolipidemic, uricosuric and antiaggregatory medication used to lower cholesterol in patients with cardiovascular risk or people with hyperlipidemia type IIa, IV and V types, as well as IIb and III in insufficient effect of diet. Activating the alpha receptors activated by the peroxisome proliferator, the medication enhances lipolysis and plasma removal of atherogenic lipoproteins with high triglyceride content by activating the lipoprotein lipase and reducing the synthesis of apolipoprotein CIII. You can get the medication in our Cholesterol medications section but before you order the pills, make sure to clarify with your doctor that this medication is suitable for you.
Top medications by USV Pharmaceuticals:
Find the latest special offer from pharmaceutical companies: