IPCA - A dose of life Generic drugs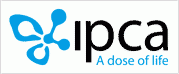 Drug manufacture link:
www.ipca.com
IPCA - A dose of life
Ipca Laboratories is one of the major Indian pharmaceutical companies which is known worldwide. It was established in 1949.
Today its products are available in over a hundred markets as diversified as African countries, Asian countries, Australia, European Union and Eastern Europe, and the U.S.
Ipca Laboratories is a fully-cycle drug-producing company that produces over three-hundred formulations and 80 active pharmaceutical ingredients (APIs) for various medical fields being one of the world's largest producers and suppliers of APIs. All products by the company are manufactured at the production facilities accredited by the world's most scrupulous medical products manufacturing- regulatory bodies like the American Food and Drug Administration, British Medicines and Healthcare products Regulatory Agency, European Union's European Directorate for the Quality of Medicines, Good Manufacture Practice of the World Health Organization and many more.
Ipca is a leading Indian producer of malarial medicines with a market-share of over thirty-four percent. The company is also a leader in Disease Modifying Anti-Rheumatic Drugs Besides, it continuously works on the expansion of its presence in the international market as in these areas as well. The company's four brands in five therapeutic fields are included in the Top-300 Indian brands.
The international customers who have their active pharmaceutical ingredients produced by IPCA are global drug-making majors like AstraZeneca, GlaxoSmithKline, Merck, and others.
At Ipca, quality guaranty is an attitude of striving for a sustainable improvement in every aspect of the company's work. The results of it can be seen in the company's financial results as well as work ethic. Net income for the financial year ended 31st March 2017 was 474 million USD with the net profit was of 28 million USD.
What's more, Ipca was rated 'Among the 100 Best Companies to Work in India 2010' in a study conducted by Great Place to Work - India in joint collaboration with The Economic Times.
In 2003 and 2004, the company was included in the Forbes' first 200 'Best under a Billion Company' in Asia rating.
Social contribution
Ipca's Revelol National Healthy Heart Program has entered Limca Book of Records in December 2017. A National Record was established when 66,145 people across India were screened for Hypertension and got Body Fat measured and analysis by over 1,500 Doctors from 200 cities.
The company's Ratlam production plant won first prize in National Energy Conservation Award 2016. Prior to this, Ipca's Ratlam Unit won the 3rd prize and 2nd prize in the years 2010 and 2007 respectively.
The company encourages its employees to participate in regional social initiatives through promotions and monetary rewards. It also encourages its employees to maintain good health. This is done by spreading awareness, educating and establishing medical camps for employees drawing their attention to their health condition and communicating about healthy food habits and exercise.
The company sponsors various training/workshops like yoga camp, stress management, health check-up, eye check-up, dental hygiene camps for its employees etc.
There are multiple social initiatives launched by the company and everyone can be acquainted with the details of every event, series of events or continuous programs by reading the reports on Corporate social responsibility project by Ipca available at the company's website.
Generics production
The export of generics produced by the company makes up almost 70 percent of its export turnover which makes the Ipca one of India's largest formulation exporters.
In total, the company has 1500 medications approved and marketed in seventy countries and 600 more products are waiting for approval in fifty countries.
The company manufactures over 350 formulations in virtually every dosage form: oral tablets, capsules, and liquids, dry powders for suspension, and liquid or powder medicines for injections. Moreover, over a half of all medications made and exported by the company are based on the active pharmaceutical ingredients made by the company's facilities.
Medications made by Ipca you can buy at our online drugstore
Currently our range of products includes the following medications made by this manufacturer:
- Generic Altace based on Ramipril and Generic Tenormin based on Atenolol are medications prescribed in hypertension, i.e. elevated arterial pressure and heart diseases such as coronary heart disease, angina hypertensive crisis, mitral valve prolapse, hyperkinetic cardiac syndrome of functional genesis, neurocirculatory dystonia by hypertonic type, essential and senile tremor, agitation and tremor with abstinence syndrome, and others. These drugs can be found in our Blood pressure medications section but make sure to clarify with your doctor what drug you need specifically.
- Generic Actos based on Pioglitazone is a drug from the class of thiazolidinedione medicines which leads to a lowering of the level of sugar in the blood. It is used in the treatment of type II diabetes, and as a means of monotherapy, and in combination with other preparations. You can find this drug in our Diabetes medications section.
- Generic Arava based on Leflunomide is a disease-modifying antirheumatic medication used to treat rheumatoid arthritis and psoriatic arthritis. It has antiproliferative, immunomodulating, and anti-inflammatory action. You can find this medication in our Arthritis medications section.
- Generic Azulfidine based on Sulfasalazine is a medication used to treat arthritis, inflammatory bowel disease, including ulcerative colitis and Crohn's disease. You can find this drug in our Anti-inflammatory medications section.
- Generic Biaxin based on Clarithromycin is a semisynthetic 14-member antibiotic-macrolide, an erythromycin derivative. The drug is used for the treatment of bacterial infections caused by sensitive microorganisms including infections of the upper respiratory tract, lower respiratory, skin and soft tissues infections, middle otitis; peptic ulcer of stomach and duodenum, mycobacteriosis, and chlamydia. You can find this drug in our Antibiotic medications section.
- Generic Indocin based on Indomethacin is a non-steroidal anti-inflammatory drug, an indolylacetic acid derivative. It has anti-inflammatory, analgesic and antipyretic effect and can be used for the treatment of rheumatoid arthritis, moderate to severe osteoarthritis, gouty arthritis, ankylosing spondylitis, and other diseases, You can find this drug in our Pain medicines section.
- Generic Macrobid based on Nitrofurantoin is a drug with a pronounced antimicrobial effect, a derivative of nitrofurans. The medication is used to treat urinary tract infections, cystitis, prophylaxis of cystitis, pyelitis, pyelonephritis, urethritis, and other susceptible infections at doctor's discretion. You can find this drug in our Antibiotic medications section.
- Generic Motilium based on Domperidone is a prokinetic drug, dopamine receptor antagonist. It increases the gastrointestinal peristalsis and initiates the release of prolactin. The medication is used to cope with nausea and vomiting of different cause, dyspeptic disorders, delayed gastric emptying, gastroesophageal reflux disease, sensation of heaviness in the stomach, bloating, pain in the upper abdomen, heartburn, hiccough, atony of the digestive tract. You can find this drug in our Gastrointestinal medications section.
- Generic Paxil based on Paroxetine is an antidepressant with a strong anti-anxiety action, a selective serotonin reuptake inhibitor. The drug is used for the therapy of major depression, social phobia, panic attacks, obsessive-compulsive disorder, generalized anxiety, and posttraumatic stress disorder. You can find this drug in our Antidepressant medications section.
- Generic Reglan based on Metoclopramide is a drug with an antiemetic (anti-vomit) effect. It is effective also in the treatment of migraine. You can find this drug in our Gastrointestinal medications section.
- Generic Seroquel based on Quetiapine is an atypical neuroleptic used in the therapy of schizophrenia, bipolar disorder, major depressive disorder, and other mental conditions at a doctor's discretion. This drug can be found in our Other medications section.
Top medications by IPCA - A dose of life:
Find the latest special offer from pharmaceutical companies: