Ajanta Pharma Limited Generic drugs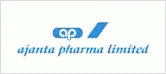 Drug manufacture link:
www.ajantapharma.com
Ajanta Pharma Limited
Ajanta Pharma is an Indian pharmaceutical company established in 1973. It has a headquartered in Mumbai, India. The company operates internationally developing and reproducing other companies developments under a license. Therefore, it is known not only for its branded medicines but also generics. The main markets of the company are the U.S., Philippines, China and other Asian countries, Middle East, and the countries of Eastern Europe. Each year the list of countries where Ajanta Pharma operates is extended. Currently, it comprises over thirty countries.
The total number of medications produced by the company as of 2017 is 1400. There is also around the same number of medications developed by the company that are awaiting approval.
The main fields for which Ajanta creates and develops medication are heart conditions, skin diseases, eye conditions, and pain management. The medications are divided in sub-therapeutic areas, for instance, allergic skin diseases and infectious skin diseases, and so on. In each of this sub-branches the company has its leading medications that compete by the number of sales and total satisfaction by doctors with the most known and expensive medications made in the U.S.
Besides, the company explores and develops new fields in accordance with the needs of its new markets. For instance, currently, it works on the creation of anti-malarial medicines for Africa and Asia, antibiotics for these countries and the Middle East as well as Eastern Europe, and so on.
Research capabilities
Ajanta keeps abreast of progress. It works on the implementation of newest technologies in its research and development facilities, and continuously expands its staff of research staff currently having more than 900 employees.
Production facilities
The company has 6 facilities five of which are located in India and one in Mauritius. Ajanta doesn't outsource the manufacturing of Active Pharmaceutical Ingredients, i.e. the man substances responsible for the drugs' effects, but manufactures them on its own facilities under the strict control and quality observance.
All production facilities made and operated by the company comply with the strictest norms and standards and had been approved by the American FDA as one of the authorities who is known for its strict regulations regarding the drug production conditions.
Ajanta continuously invests in improvement and implementation of innovations of its existing facilities to meet Current Good Manufacturing Practice (CGMP) requirements set by the American FDA. It also builds new facilities to meet the company's growth requirements.
Mission and view
The company mission and view is to serve healthcare needs worldwide. It not only makes sure to invest in the development of the most actual medications and production of the most effective and safe drugs known today but also strives to make all drugs more affordable to all layers of the population in all countries worldwide.
Medical products made by Ajanta Pharma Limited you can buy at RXShopMD.com
- Kamagra (Sildenafil citrate) is a medication identical to the expensive branded drug Viagra. It is used for erectile dysfunction (impotence) treatment in men of all ages. You can find this medication at the Men's health section of our online drugstore.
- Kamagra Polo (Sildenafil citrate) is also a medication for erectile dysfunction treatment based on the same substance as active pharmaceutical ingredient as Viagra but made in a different formulation, i.e. the pills rather than be swallowed with water can be chewed like a hard candy (they also taste like it) and then swallowed without being washed down. Such manner of use is not only much more convenient and discreet but also ensures a quicker onset of the drug effect. You can find this medication at the Men's health section of our online drugstore.
- Kamagra Soft (Kamagra Soft Flavored) is chewable soft tabs based on Sildenafil citrate the active pharmaceutical ingredient of Viagra. They have the same effect as the known branded drug but are taken in a much more pleasant way as they are flavored soft tabs that can be taken anywhere at any time without anyone asking why you take pills. Besides, they are ideal for men who have problem swallowing pills. The soft tabs also start rendering the effect much sooner than the regular pills. The indications for the pills use are the same – erectile dysfunction or simply the inability to achieve or maintain an erection rigid enough for a sexual intercourse. You can find this medication at the Men's health section of our online drugstore.
- Sildenafil Oral Jelly (Kamagra Jelly) is the medication with the same effect as Viagra, i.e. it helps to cope with erectile dysfunction. However, it is made not in form of regular pills but jelly coming in convenient dosed sachets which are easily taken and quicker starts rendering its effect. You can find this medication at the Men's health section of our online drugstore.
Top medications by Ajanta Pharma Limited:
Find the latest special offer from pharmaceutical companies: