Generic name:
Norethindrone Acetate
Drug description:
Norethindrone Acetate, or generic Aygestin, is used for treating various women's health problems including abnormal uterine bleeding, stopped menstruation, and endometriosis. It is a leading type of synthetic progesterone shown effective in hormone therapy. Off label uses for Aygestin include treating symptoms of breast cancer. If your doctor has prescribed you Aygestin, you can save money by ordering Norethindrone online at a discount price for loyal customers. Generic Aygestin should always be used exactly as indicated by your doctor to avoid side effects and get the best possible results.
Manufacturer:

Sandoz a Novartis company
Synonyms:
Anovule, Anovulatorio, Binovum, Brevinor, Brevicon, Camila, Conceplan, Ciclovulan, Conludaf, Conludag, Demulen, Estrinor, Errin, Gencept, Gestest, Genora, Jenest, Loestrin, Levlen, Menzol, Microneth, Micronovum, Micronor, Milli, Minovlar, Modicon, Nelova, Necon, Neocon, Nodiol, Noraethisteronum, Norcept, Noralutin, Norcolut, Nordette, Norethin, Norethadrone, Norethisteron, Norethyndron, Noretisterona, Norgestin, Norfor, Noriday, Norimin, Norinyl, Norlestrin, Norluten, Norlutate, Norlutin, Norluton, Normapause, Norpregneninlone, Ortho-Novum, Orlest, Ovcon, Ovral, Ovrette, Ovysmen, Perovex, Palonyl, Primolut N, Primount N, Proluteasi, Synphase, Trinovum, Triella, Utovlar, Utovlan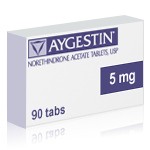 Actual product may differ in appearance from image shown.

Generic Aygestin (Norethindrone Acetate 5 mg)

guide:
What is Generic Aygestin?
Aygestin is a brand name for the drug norethindrone acetate, a type of progestin. Progestin drugs are synthetic forms of the hormone progesterone. This hormone is one of the "female" hormones and responsible for regulating various reproductive functions, particularly ovulation and menstruation. Aygestin is FDA approved for treating endometriosis, a condition in which uterine cells grow outside of the uterus and leads to abnormal bleeding. Aygestin is also FDA approved for amenorrhea, a condition in which menstruation stops, and for abnormal bleeding from the uterus. Aygestin can also be used for off-label purposes like alleviating symptoms of breast cancer.
How to Take Norethindrone Acetate?
There is no precise way to take Aygestin. Rather, Aygestin dosage and administration must be adjusted to meet the needs of patients on an individual basis. For treating amenorrhea or abnormal bleeding from the uterus, the typical Aygestin dosage is usually 2.5 to 10 mg taken once per day for a period of 5 to 10 days in the latter half of a menstrual cycle. For treating endometriosis, most patients start at 5 mg dosages of Aygestin taken for 14 days. The dosage will gradually be increased until it reaches 15 mg daily. Women typically remain at 15 mg daily for 6-9 months.
Are there any Side Effects from Aygestin?
It is very common and often expected for Aygestin to cause breakthrough uterine bleeding or spotting. This should be reported to your doctor. Aygestin may also commonly cause dyspepsia, headaches, dizzy spells, mild changes to mood, difficulties with sleep, changes in weight, pimple breakouts, tenderness in breasts, changes to libido, or changes to hair.
In event that any of the following possibly risky side effects occur, contact your health care provider at once: unusual discharges from vagina, severe mood changes, inflammation to extremities, urinary problems, jaundice, or darkening of skin. In rare cases, taking progestin drugs like generic Aygestin can lead to blood clots. Get immediate medical attention if you have symptoms of a heart attack or stroke.
Who should not take Norethindrone Acetate?
It may not be safe for certain people to take Aygestin. Make sure that your doctor knows your full medical history before you purchase Aygestin, particularly if you have: blood clotting problems, abnormal internal bleeding, renal impairment, hepatic impairment, had/have cancer, undiagnosed unusual vaginal bleeding, incomplete abortion, high blood pressure, mental health problems, are diabetic, or history of heart attack/stroke. It is also important that you tell your doctor if your family has a history of these conditions.
What should I know before taking generic Norethindrone Acetate?
Since generic Aygestin could cause blood clots, it is important that you do not take it while you are confined to bed. Before you buy Aygestin, tell your doctor if you are surgery scheduled or are immobile. You should not smoke while taking Aygestin. Never take Aygestin while pregnant as it could cause miscarriage or other fetal harm.
Are there any drugs which should not be combined with generic Aygestin?
If you combine Aygestin with certain other medicines, supplements or illicit drugs, it could result in an interaction. Interactions can be very dangerous by resulting in serious side effects or altering the way that the substances work. Always make sure that your doctor or pharmacist knows what other drugs you are using before you purchase Aygestin. This includes antifungal and antibacterial medicines, some anticonvulsants, and St John's wort.
What happens if I take too much medication?
Never take more Aygestin than you have been prescribed. If you take too much, you could have an overdose. Symptoms of overdose could include feeling very nauseous and throwing up. If you think you have overdosed, get immediate emergency medical help.
Where Can I Buy Aygestin?
You can buy Aygestin at almost all reputable pharmacies. If you want to save money, then you can buy cheap generic Aygestin as Norethindrone Acetate online. Generic Aygestin is the biochemical equal to brand name Aygestin but they are made by different women's health drugs companies.
Do I need a prescription to Order Aygestin?
In most land-based pharmacies, you will need a prescription to buy Aygestin. However, some foreign pharmacies and many online pharmacies do not require a prescription to buy Aygestin, though you may be required to submit your medical information for review. Even if you can purchase Aygestin without a prescription, it is still important that you consult with your doctor before taking these women's health drugs. Every woman requires a different regiment for Aygestin and must also be monitored for the drug's effectiveness and side effects. Talk to your doctor about Aygestin and what you should do about a prescription if you need the medicine for long-term use.
Free prescription
Our doctor prescribes Norethindrone Acetate online for free, and there is no doctor's consultation fee.
Discrete packaging
All orders of Norethindrone Acetate arrive in discrete unmarked parcels. We leave the shipment description blank.
Aygestin (Norethindrone Acetate) Reviews: