What is Cleocin? How to Treat with Generic Clindamycin.
Drug description:
Generic Cleocin is a term used for the medications identical to the branded drug but sold under different names. The medications represent an antibiotic called Clindamycin which is used for a variety of infections of different organs and systems. However, the drug has a narrow activity spectrum and preferably should be used only when a susceptibility test shows that the pathogen is susceptible to the drug. The medication can be used by people with severe liver or kidney dysfunction, children older than 3 years of age but is contraindicated for pregnant and breastfeeding women. For more details on the drug usage and precautions, get acquainted with the medication guide we prepared for you based on the FAQ.
Generic name:
Clindamycin
Benefits:
Treats bacterial infections in oral use at home
Analogs:
Clincin, Dalcap, Chlolincocin, Clinda-Derm, Clindagel, Clindamicina, Clindesse, Clindets, Clinimycin, Dalacin, Evoclin, Sobelin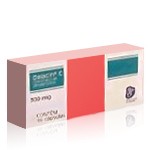 Actual product may differ in appearance from image shown.

More facts about
Generic Cleocin (Clindamycin 150 mg)

:
Generic Cleocin (Clindamycin 150 mg)

guide:
What are the medications advertised and sold as Generic Cleocin?
Clindamycin, the active substance of the antibiotic, was first discovered and used back in 1967. Currently, the medication is available in the U.S. and some other countries under the brand name Cleocin. However, the same drug is also sold under different names. Because other manufacturers started to make the same drug when the formula was already developed and registered by a certain company, they are called generics or Generic Cleocin. This term is used to make it easier for pharmacists and clients to offer or buy the same drug cheaper without remembering all of the trade names the substance is sold under. Worth noting, generics are much cheaper than the branded drugs with the same composition. For instance, the dosage of the branded antibiotic in the U.S. costs around $2.70, while the same dosage of a generic costs only around $1-1.5.
The active substance, Clindamycin, is a semi synthetic antibiotic included in the group of lincosamides. It is an analog of lincomycin that almost completely replaced lincomycin in most countries due to an improved pharmacological profile. It has a rather narrow spectrum of antimicrobial activity as it is mainly effective against non-spore forming anaerobic bacteria and Gram-positive cocci (except MRSA), and moderately active against certain protozoal infections. There are several formulations of the antibiotic which makes it possible to use it both systemically and locally.
Are generics inferior to the branded drug?
If you want to buy Generic Cleocin instead of the brand drug to save on the pills, do not worry about their quality and effect. The medications sold as generics of the branded drugs are clinically tested prior to being released onto the market. They are also checked for the compliance and effectiveness. Naturally, some manufacturers can use inferior ingredients for their pills. Therefore, you should buy the drug only from the reliable vendor whose reputation is proven by years of work and positive customer reviews. For instance, our online pharmacy has been on the market for years now. We value our reputation and sell only qualitative pills from the manufacturers who are known for their best quality medications. You can check our reputation and the reputation of the medicines we sell looking at the customers' reviews on our website and third party websites.
How does Clindamycin render its effect?
The antibiotic inhibits the synthesis of certain proteins in bacteria binding to its ribosome. It can have bacteriostatic or bactericidal effect, depending on the type of microorganisms, the concentration of the drug and the site of infection. It has high bioavailability, i.e. 90% of the medication is absorbed when taken orally and not affected by food. The maximum concentration of the drug in oral intake is achieved in 40-60 minutes.
When can Generic Cleocin (Clindamycin) be used?
Since the medication is active against only several types of pathogens, it is reasonable to buy Cleocin only after you made a susceptibility test and your health care provider prescribes you the drug based on Clindamycin. Otherwise, you may end up using antibiotic for nothing because the bacteria will continue to replicate and cause inflammation in your body.
Moreover, it is crucial to confirm that you have a bacterial infection before you start using any antibiotics. This class of drugs can become ineffective if you misuse or overuse any antibiotic because bacteria become resistant to the medicines and in case of severe or life-threatening infection the antibacterial drugs will be ineffective for you.
The most common conditions for which the drug is used are otitis media, bone or joint infections, urinary tract inflammation, skin infections, pharyngitis, pneumonia, endocarditis, and others if they are caused by susceptible pathogen.
In what dosage and for how long the medication should be used?
First of all, we need to say that whatever drug you purchase, a generic or branded drug, the dosages and therapy course durations are the same. Therefore, if your doctor prescribes you Cleocin and you buy Clindamycin with any name on the package of pills, you should use it according to your doctor recommendations or as says the instruction.
The daily dosage of Cleocin for children older than 15 years and adults for mild to moderate infections is 600 mg split into 4 intakes (one 150 mg pill per intake) with an interval of 6 hours.
The daily dosage of the antibiotic for children older than 15 years and adults for severe infections is 1200-1600 mg split into 4 intakes (two-three pills per intake) with an interval of 6 hours.
The daily dosage for children between 8 to 12 years of age for severe infections is 600 mg split into 4 intakes (one 150 mg pill per intake) with an interval of 6 hours. For mild to moderate infections, the instructions are not provided.
The daily dosage for children between 12 to 15 years of age for mild to moderate infections is 450 mg split into 3 intakes (one 150 mg pill per intake) with an interval of 6 hours. For the severe infection therapy, the dosage is 900 mg split into 3 intakes (two pills per intake).
Children older than 3 years of age require individual dosages calculation based on the body weight and administration of the medication in a form of suspension prepared from pills.
Instruction on dosage adjustments for liver or kidney dysfunction
Patients with severe liver and/or kidney dysfunction do not need a dosage correction but the interval between the intakes should be at least 8 hours.
Can Cleocin be used during pregnancy or breastfeeding?
The medication is contraindicated for pregnant and breastfeeding women.
Contraindications for the medication use
The drug is contraindicated for pregnant and breastfeeding women, in presence of such conditions as myasthenia, asthma, ulcerative colitis (including history), in allergy to the drug's components, intolerance of galactose, deficiency of lactase or glucose-galactose malabsorption.
You should not buy Generic Clindamycin for children below 8 years of age unless a pediatrician prescribes the drug and gives precise directions on how to make a suspension.
The drug should be cautiously used in elderly patients and people with severe liver or kidney dysfunction.
Possible adverse reactions during use of Cleocin or its generic
The most probable adverse reactions include pain in the stomach, nausea, vomiting, diarrhea, dysbiosis, and colitis, skin rash and itching.
In certain symptoms, the use of the drug is continued while others require the discontinuation of the antibiotic use and its replacement with another agent. In order to decide whether you should or should not continue the therapy, you need to inform your doctor about the side effects that you have.
Interactions with other medicines
Before you order Cleocin and start using the pills, we highly advise you to inform your doctor about all medications that you use because some of them can be incompatible with the drug.
The antibiotic must not be used along with ampicillin, barbiturates, aminophylline, calcium gluconate, and magnesium sulfate.
The concurrent use with supplements or drugs containing B vitamins, aminoglycosides, or phenytoin is not advised.
Clindamycin mutually increases the effect of rifampicin, aminoglycosides streptomycin, gentamicin (especially in the treatment of osteomyelitis and the prevention of peritonitis after intestinal perforation). It also enhances the effect of competitive muscle relaxants.
Simultaneous administration with drugs used to cope with diarrhea, the risk of pseudomembranous colitis development increases.
Clindamycin used simultaneously with opioid analgesics can enhance the respiratory depression induced by them.
Overdose of Clindamycin
In case of overdose, the likelihood and severity of adverse reaction increases. The therapy includes symptomatic treatment as there is no antidote and hemodialysis and peritoneal dialysis are ineffective.
Where to buy Cleocin cheap?
As we have already mentioned, in the U.S. the medication costs several times more than its generic versions in other countries. Therefore, if you want to save and get the same quality drug, you should order Clindamycin from our online pharmacy.
Generic Cleocin shipping
When you order any pills from our online pharmacy, you can be sure that they will be delivered to your doorstep wherever you live. We offer international shipping with tracking numbers of all drugs that are showcased on our website.
Free prescription
Our doctor prescribes Clindamycin online for free, and there is no doctor's consultation fee.
Discrete packaging
All orders of Clindamycin arrive in discrete unmarked parcels. We leave the shipment description blank.
Cleocin (Clindamycin) Reviews:
Common drug rating:
5.00
/ Total votes:
1
THANKS, Great Product & Great Service!