What is Minomycin? How to Treat with Generic Minocycline.
Drug description:
Minomycin is a trade name of the drug based on the semi synthetic antibiotic with broad spectrum of activity called Minocycline. The drug is manufactured all around the world and can be found under a variety of names, or simply as Generic Minomycin. It is used in adults and children older than 8 years of age for the treatment of a variety of infections such as upper and lower respiratory tract infections, urinary tract and sexually transmitted infections, plague, anthrax, cholera, skin and soft tissue infections, meningitis prophylaxis, and others. Learn more about the antibiotic from our med guide below.
Generic name:
Minocycline
Indications:
Urinary tract infections
,
Cystitis
,
Pyelonephritis
,
Urethritis
,
Upper and lower respiratory tract diseases
,
Anthrax
,
Plague
,
Cholera
,
Infections transmitted from birds and cattle
,
Conjunctivitis
,
Trachoma
,
Lymphogranuloma venereum
,
Actinomycosis
,
Meningitis prophylaxis
,
Gonococcal infection
,
Syphilis
Benefits:
Effectively treats severe bacterial infections in convenient oral use at home
Analogs:
Minoz, Arestin, Dynacin, Klinomycin, Vectrin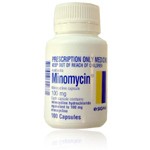 Actual product may differ in appearance from image shown.

Generic Minomycin (Minocycline 50 mg)

guide:
More facts about
Generic Minomycin (Minocycline 50 mg)

:
What is Generic Minomycin? Is the generic any different from the brand medicine?
Minomycin is a trade name. The name of the medication's active substance is Minocycline. The substance is not subject to the exclusive patent anymore and therefore can be manufactured by different pharmaceutical companies. However, they are obliged to register their own names when they enter the market. For instance, the drug can be found under such names as Akamin, Sebomin, Minopen, Divaine, and many others. Collectively, these drugs are called generic Minocycline by the name of the active substance or Generics of Minomycin. These unofficial names are given to the drugs so that people who need the medication would be able to find it easily anywhere they are when they don't know the names of the medication that are common in a certain region. Moreover, since generics are cheaper than the branded medications and especially brand-name drugs marketed in the U.S., many people from America look for generics at online pharmacies but naturally, they know the name of the medication that is used in their country only.
Minocycline, the active substance of the drug, is a semi synthetic antibiotic from the group of tetracyclines. It was first synthesized in 1961 by an American pharmaceutical company and became available at drugstores in 1971. The medication has a broader spectrum of activity than the previous tetracycline-based antibiotics but the use of the drug requires caution for the avoidance of specific side effects and resistance development in pathogens.
Is the effect of the generic the same as the effect of the brand drug?
Yes. The generics available much cheaper than the brand drug are in no way inferior to the medication with a known and advertised name. Moreover, some generics even surpass the quality and effect of the original drug because their manufacturers invest in further development instead of stopping on the original formula.
When you buy Generic Minomycin from our online drugstore, you can be sure that you purchase the medication that is identical to the branded drug and corresponds to the highest quality and safety standards.
In what diseases the medication can be used?
All antibiotic drugs must be taken only in a confirmed bacterial infection. Some symptoms of viral or fungal infections can be similar to bacterial infections and you can misinterpret them. To avoid that, it is better to buy Minomycin only after a consultation with a doctor and susceptibility tests, i.e. tests that show whether the pathogen that caused your disease can be eliminated with this particular antibiotic.
This antibiotic is used for a wide variety of conditions, some of them are upper and lower respiratory tract infections, acute infectious diseases transferred from birds and cattle to people, urinary tract infections, Reiter's syndrome, conjunctivitis, trachoma, lymphogranuloma venereum, plague, cholera, anthrax, and others. Minomycin is also sometimes used as an alternative therapy for certain infections when the first line antibiotics cannot be used for some reasons. These conditions include gonorrhea, syphilis, listeriosis, actinomycosis (fungal infection), infections caused by Clostridium.
Therapy duration and dosages
Ideally, the dosage of the drug should be prescribed individually taking into account the severity of the infection. However, the instruction provides general dosage regimens and recommendations on the treatment course durations. When you buy Minocycline, you should remember that the antibiotic should be taken 1 hour before meal or 2 hours after meal.
The initial average dosage for adults is 200 mg with subsequent decrease to 100 mg taken every 12 hours.
Children older than 8 years of age are prescribed 4 micrograms per kilogram of the body weight with subsequent decrease to 2 micrograms per kilogram of body weight administered with 12-hour intervals.
As with other antibiotic drugs, the therapy with Minocycline should be continued for 24-48 hours after the symptoms improvement.
The treatment course duration in syphilis is 10-15 days, in Gonococcal infection at least 7 days. In meningococcal carriage (the presence of meningitis pathogen in the body without manifestation of the disease symptoms), the medication is taken in the dosage of 100 mg once in 12 hours during 5 days.
Dosage reductions for liver or kidney dysfunction
For people with impaired liver or kidney function, reduced dosages or bigger intervals between the intakes are advised.
Is Minocycline used for the therapy of pregnant and breastfeeding women?
The drug is unsafe for pregnant and breastfeeding women, hence, it should not be prescribed for them.
Minocycline contraindications
If you have any of the following conditions, you should not buy Generic Minocycline:
- Hypersensitivity or allergy to tetracyclines
- Pregnancy or breastfeeding
- Severe liver or kidney dysfunction
The medication is also not advised for children under the age of 8 and people with a history of severe allergic reactions.
If you have any of these conditions and your doctor appoints you the therapy with Minocycline, you must notify him or her about your conditions if your doctor is not aware of them. It is always better to start using antibiotics only when they are prescribed by a doctor who knows your health history and can evaluate all risks beforehand.
How does the medication act?
As other medications from the group of tetracyclines, Minocycline does not kill the bacteria but stops its replication and growth. This is effect is called bacteriostatic and is achieved through the inhibition of protein synthesis in the bacteria cells which is crucial for their growth and replication. Moreover, the medicine is also an inhibitor of matrix metalloproteinases what causes its anti-inflammatory effect that is exploited in rheumatoid arthritis.
If you want to know more detailed information on the medication effect before you order Minomycin, please refer to the drug encyclopedia or the instruction that accompanies the pills.
What adverse effects Minomycin can cause during the therapy?
The most common adverse reaction in the use of the medication is dizziness. It occurs in 30% of patients. Another adverse effect is the change of the enamel color in children. Therefore, the drug must not be used in children before the age of 8 when their enamel is more susceptible to the changes caused by Minocycline. Other negative symptoms that occur less frequently are nausea, vomiting, diarrhea, loss of appetite, difficulty swallowing, and increased sensitivity of skin to the sun light, headache, allergic reactions, rash, itching, swelling, anaphylaxis, and others. Some researches claim that the drug can be a cause for autoimmune hepatitis or lupus development.
If during the therapy you start feeling only worse, it may be a sign that the drug is unsuitable for you. In this case, you need to notify your doctor immediately as you started experiencing malaise.
Interactions with other drugs
The main contraindication is Methoxyflurane combination with the antibiotic because the combined effect on the kidneys can cause death of the patient.
Minomycin can lower prothrombin activity of the blood plasma, which may require the reduced dosages of anticoagulants in patients who undergo anticoagulant therapy.
Considering that the antibiotic is bacteriostatic, it negatively influences the effect of the drugs with bactericidal action such as penicillin-group drugs. Therefore, their concurrent use is contraindicated.
The absorption of the drug and its antibacterial effect is minimized in concurrent use with antacids that contain aluminum, calcium, magnesium or iron-containing preparations.
The drug can cause ineffectiveness of oral contraceptives in concurrent use.
There are also other negative interactions. Therefore, if you use any medications when you plan to order Generic Minomycin, please consult your doctor before that to be sure that you are not going to harm your body.
Overdose of Generic Minomycin
The most common symptoms of an overdose with the drug are dizziness, nausea, and vomiting. In case of an overdose you must stop taking the drug and seek medical assistance which consists of symptomatic and supportive measures.
Where to buy Minomycin?
To purchase the pills cheap and without Rx, you can order Minocycline right from this web page.
Minocycline shipping terms
We ship internationally at affordable prices. Learn more from our FAQ section or consulting our pharmacists.
Free prescription
Our doctor prescribes Minocycline online for free, and there is no doctor's consultation fee.
Discrete packaging
All orders of Minocycline arrive in discrete unmarked parcels. We leave the shipment description blank.
Minomycin (Minocycline) Reviews:
Common drug rating:
5.00
/ Total votes:
3
Great product & fast service!!!
Very pleased with my purchase
Everything was as described